September 27-October 3, 2006
home | metro silicon valley index | movies | current reviews | film review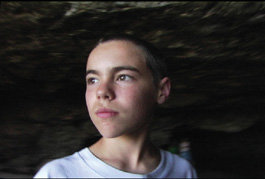 Come To Jesus: The kids in 'Jesus Camp' get scared early and often in Heidi Ewing and Rachel Grady's documentary.
Pray
'Jesus Camp' is the year's scariest movie
By Richard von Busack
WANNA SEE something really scary? Heidi Ewing and Rachel Grady's truly frightening documentary Jesus Camp shows extreme evangelicals at work, indoctrinating the children of tomorrow. At a South Dakota camp, operated by Becky Fischer, director of Kids in Ministry International, some 50 children assemble, not learning Christ's message so much as being exposed to political fury. An unidentified minister—a ringer for Harvey Keitel—brings rubber fetuses for the children to fondle. The kids are scared until they weep. They absorb the message that just as some Muslim children are being prepared to trade their lives for their faith, so too must they be ready to fight. We see a ceremonial blessing of a cardboard stand-up of George W. Bush, placed on a mantle of fleecy cotton representing heaven; this idol is saluted in a gabbling oratory of worshippers speaking in tongues.
When sex columnist Dan Savage started using the phrase "American Taliban," it seemed like harmful rhetoric, meant to alienate sides in a dispute over the fate of the nation—sides that needed to find something in common. Jesus Camp makes the case that Savage was talking about: In the face of this spiritual energy, are we all going to be rolled over by a small, fervent band—just as liberals were in the past by the Bolsheviks, the Nazis and the real Taliban? Ewing and Grady mean to sound the alarm by interviewing Ted Haggard of the New Life Church—the Billy Graham of an angry new America. Haggard communicates with W every Monday morning, and we glimpse him shaking hands with Levi, the fresh-faced child we've followed through the film, who seems most groomed for ministry. While the filmmakers refrain from comment, they have picked prairie landscapes for their most ominous qualities. The finale takes place at a car wash, near where slate-colored snow surrounds jail-like housing tracts. It looks, in poet Ted Hughes' phrase, as if a fist of cold had squeezed the fire in the core of the world—a vision of the wintry triumph of a born-again land, and it's a hell of a lot more bloodcurdling than Margaret Atwood's The Handmaid's Tale.
It's the evangelicals who are frightened, though. They have been fighting ever since the secular humanists took prayer out of the schools, but they also war against what they call "dead churches"—as if serenity and meditation were the enemies, compared to a burning fury with the living world. Only a desperate salesman knocks his competition. Another consolation: a child passionate about one thing may be passionate about something else as time passes. The real tastiness of sin is not apparent to a kid, who can only conceive of hellfire as punishment for stolen chocolates. I myself signed my soul over to Jesus in 1967 at Greek Oak Bible Camp—more horses, less haranguing than Jesus Camp—and no court would accept a legal document signed by a child. The children here get their pleasures thundered against. Ministers try to chase that satanic Harry Potter out of their lives, hoping to interest them in an imaginary world less beguiling than the one at Hogwarts. Still, the kids don't seem all that inclined to bite. The question, then, is not what's happening now, but what could happen: What if some catastrophe gives these Christian warriors the high ground above some battlefield to come?

Jesus Camp (PG-13; 84 min.), a documentary by Heidi Ewing and Rachel Grady, opens Sept. 29 at the Aquarius in Palo Alto.
Send a letter to the editor about this story.