September 27-October 3, 2006
home | metro silicon valley index | the arts | stage | review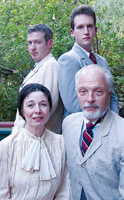 Photograph by Jeanie Forte
Tyrone Typhoon: Family emotions threaten to tear apart Eugene O'Neill's Tyrone family—in front, Diane Tasca and Tom Ammon; in back, Eric Rice (left) and John S. Russell.
Mother On the Edge
A fragile matriarch holds a cracking family in thrall in Pear Avenue's 'Long Day's Journey Into Night'
By Marianne Messina
EUGENE O'NEILL'S semiautobiographical play A Long Day's Journey Into Night takes place in one room, and the Pear Avenue Theatre production sets a table front and center to support the eventual sprawl of whiskey bottles and glasses. Window frames outlined behind the actors suggest the direction of the repeating fog horn that keeps family matriarch Mary's sense of loneliness in mind at all times. Other than a maid named Cathleen (Sarah Eismann brings in a grounded freshness as the quotidian girl about her chores), O'Neill goes no further than the immediate family to people his play: Mary (Diane Tasca) and James (Tom Ammon) and their two sons, Jamie (Eric Rice) and Edmund (John S. Russell).
There's a certain feeling of isolation in the setup. Just out of the sanatorium (for reasons at first unknown), Mary Tyrone, as played by Tasca, is contrary—sweet one moment and scathing the next. "Why have they come home?" she complains about the bothersome return of her family. But right on top of that, she adds, "I'm so glad they're here." As devastating as her comments can be ("No respectable parents would let their daughters be seen with you"), she is fragile as an egg shell with a crack in it, about to birth a hurricane.
As we become gradually surer that Edmund has a life-threatening illness and that Mary is slipping back to some horrible condition, dread hangs in the air. To capitalize on this feeling, director Jeanie Forte has turned Mary into a veritable sword of Damocles in the way she exits up through the audience. (The crew created her stairway by clearing the seating to the side and painting the tiers like floorboards.)
As brothers and father gaze vaguely over our heads, telling each other to be quiet lest she come downstairs, we can hear Mary rustling or pacing behind us. Tasca takes her exits and entrances slowly, eerily, up and down the steps like a ghost. As the elaborate language often borrowed from great poets falls over the quiet Pear Avenue Theatre stage, this lonely pall persists almost without modulation.
Still, the play is not quite so solemn as it sounds. This family comes out with the most offbeat humor in the most horrific of moments. Rice's Jamie hits his stride in the drunken scene with Edmund, when he tells his brother to watch out for "the dead part of me," which will pretend to be looking out for Edmund while actually trying to trip him up. Finally, Jamie drunkenly concedes, "I love you more than I hate you."
Forte has put together a creative interpretation not particularly subject to the Irish sensibility, where the brooding is lusty and lyrical and fondly embraced with a dash of wing-pulling irony. Russell's thoughtful, appealing and very natural Edmund (who loves the fog; read: brooding poet) seems nevertheless more stunned than brooding. Ammon's James is affable and humble (for a "cheapskate" landlord and former stage star once "wild with ambition") without a hint of Irish attitude, cocky and quipping, or that other Irish staple, sarcasm.
This vision is rather haunted, spiritual, even, in its emphasis on the potential hells we fall prey to: separation, escapism, loneliness, emptiness, fear. It also brings out O'Neill's continual debate about the grip of the past ... "Remember so you will always be on your guard," "Don't dig up what's long forgotten." There's a clear equation between escapism and madness here. The endless rounds of drink, which could evoke a humorous absurdity, feel desperately repetitious, invoking the adage about madness as doing the same thing over and over and expecting different results. Tasca gives Mary the subdermal twitch and drip-away smiles of a woman always just on the edge of cracking. As terrifying as she is lost, she's O'Neill's impending storm at sea asking how we intend to face it.
Long Day's Journey Into Night, a Pear Avenue Theatre production, plays Thursday-Saturday at 8pm and Sunday at 2pm through Oct. 22 at the Pear, 1220 Pear Ave., Unit K, Mountain View. (Oct. 6-8 shows at Tao House Danville.) Tickets are $10-$25. (650.254.1148)
Send a letter to the editor about this story.