September 27-October 3, 2006
home | metro silicon valley index | music & nightlife | preview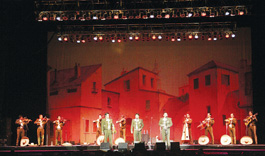 Growing Up: Mariachi Cobre will help the San Jose International Mariachi Festival celebrate its 15th anniversary.
Mariachi Marathon
For its 15th anniversary, the San Jose Mariachi Festival welcomes Juan Gabriel and a host of mariachi favorites
By Chuy Varela
IN MEXICAN CULTURE, when a girl turns 15, she comes of age, and a special Catholic mass and celebration occur for her quinceañera. The event is full of ritual and regalia and parallels a small wedding, with gowns, tuxedos and mariachis. From there, it becomes a fiesta with family and friends as the young woman dances herself into adulthood.
This year, the San Jose International Mariachi Festival celebrates its 15th anniversary, Oct. 3-8, with a regal bill befitting this pioneer event. Unfortunately, the only thing missing is the girl. Linda Ronstadt, who was scheduled to co-headline the festival with Juan Gabriel, backed out earlier this year. Now, el divo, as Gabriel is called, will top the gala concert on Friday at HP Pavilion. Joining him are Mariachi Mi Tierra, Mariachi Vargas de Tecalitlan, Mariachi Cobre, Mariachi Azteca and the folkloric dance troupe Los Lupeños de San José.
A mariachi symposium opens the week on Tuesday at the Mexican Heritage Plaza, and there will be dozens of workshops for more than 400 students from across the country. The festival culminates Sunday with a Mariachi Mass and a daylong cultural fair at History Park.
Nothing characterizes Mexican culture more than the mariachi. With violins, trumpets, varying guitars and voices, mariachis play a regional style born in the state of Jalisco. The genre is a fusion of indigenous influences and Spanish colonial song forms. At its heart lies the musical expression called "son." Derived from the troubadour sonora tradition, the early mariachi song was called "son jalisciense."
The mariachis drew from the French music and instruments imported during the occupation of Mexico by Napoleon III in the 1860s. The tourist translation of mariachi is based on the French word for marriage: "mariage." But most scholars believe the form dates back to pre-Columbian time as well.
It was the Mariachi Vargas de Tecalitlan, founded by Gaspar Vargas in 1898, that would uplift and urbanize the mariachi ensembles and beef up the sound by adding a trumpet. Gaspar's son, Silvestre, took over the group in 1928 and is largely responsible for advancing its musical texture.
Relocating to Mexico City, Silvestre hired the noted composer/arranger Ruben Fuentes and began recording for RCA Victor in the 1940s. Their 78s fueled the advent of radio south of the border and gave rise to the singing charro, the Mexican cowboy. Stars like Jorge Negrete, Pedro Infante and Tito Guizar delighted audiences in films during a golden age of Mexican cinema singing rancheras, waltzes and those upbeat sones in riveting 6/8 time.
Sweet and simple in its infancy, in the hands of opera-trained singers like Negrete, the idiom got drenched in machismo. The advent of the "cancion ranchera," an offshoot of the corrido folk ballad style, gave the mariachi its prose, with its rich metaphors and descriptions. The irony is that this rural country song style was defined in the 1930s by the Lucha Reyes, the Billie Holiday of DF, who drank herself to an early grave.
Embedded in tradition, mariachis have survived by providing an essential sonic backdrop to weddings, baptisms, funerals and courtship. The San Jose Mariachi Festival has uplifted the image of the mariachi by taking it out of the streets, restaurants and bars and putting it in the concert hall.
At 15, the festival will be dancing this upcoming week and deservedly so. The positive reflection and pride it gives Mexicans living in and around San Jose and their offspring is as good as their food. It creates a bridge for a musical heritage that just keeps getting passed on from generation to generation.
The San Jose Mariachi Festival runs Oct. 3-6. Oct. 6, 7pm: Gala Concert featuring Juan Gabriel, Mariachi Vargas de Tecalitlán, Mariachi Cobre, Mariachi Azteca and Los Lupeños; HP Pavilion, 525 Santa Clara St., San Jose; tickets are $40-$125. Oct. 7, 10am-8pm: Mariachi Day, featuring a concert by Los Cenzontles; Children's Discovery Museum, 180 Woz Way, San Jose; free. Oct. 8, 9:30am: Mariachi Mass, followed (11am-6pm) by Feria del Mariachi; History Park, 1650 Senter Road, San Jose; free; for more info and tickets, call 800.MHC.VIVA.
Send a letter to the editor about this story.