September 27-October 3, 2006
home | metro silicon valley index | movies | current reviews | film review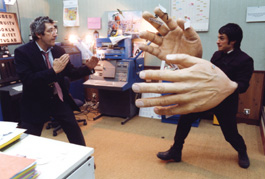 Photograph by Etiennne George
Man Hands: Gael García Bernal gives new meaning to the phrase 'fists of fury' as he challenges Alain Chabat to an office duel in 'The Science of Sleep.'
Dream On
'The Science of Sleep' is a date movie for people who still wear footie pajamas
By Richard von Busack
IN ESSENCE, The Science of Sleep, the new movie by Michel Gondry (Eternal Sunshine of the Spotless Mind) turns Gael García Bernal into Pee-wee Herman. Like the immortal Herman, Bernal plays a man who hosts his own imaginary television show. The difference is that Stephane's one-man show, filmed in a playhouselike studio, lined with scavenged cardboard, only broadcasts while he is dreaming. When his parents divorced, Stephane went to live with his father in Mexico; now grown up and mourning his recently dead father, he has returned to Paris to stay at the building owned by his estranged mother (Miou-Miou). At night, while Stephane dreams his surreal TV dreams, he sleeps in the bed he had when he was a child, with the same sheets printed with cartoons and his toys on all sides of him.
The man-child seems like a big kid, wandering around Paris in an aubergine-colored Edwardian suit. Gondry does not do García Bernal or his fans a favor by having the actor wear a knitted Peruvian bonnet (Ethan Hawke sabotaged his star-performance as Hamlet in one of those suckers, too). After a meet-sweet involving a plummeting piano, Stephane starts a shy romance with the girl next door, Stephanie (Charlotte Gainsbourg). Yet, Stephane's life is not bliss. He had come to Paris because his mother had promised him a job in the arts. She lied. He must toil as a typesetter at a calendar-designing office where no one cares about his ideas. Stephane's graphics job bores him, but his three co-workers are sitcom-wacky: a horny giantess (Aurélia Petit), a gesticulating little fellow (Sacha Bourdo) and Guy (Alan Chabat), a pervy but friendly older man. Guy fulfills the ancient comedy function of reminding the hero that there are physical reasons why men and women are attracted to each other—and to put these reminders in such gross terms that the hero's pureness will look noble instead of backward.
As Stephanie, the woman of Stephane's daily and nightly obsessions, Gainsbourg is genuinely attractive—a soulful yet goony aesthete with a murmuring little voice and a wardrobe of woolly sweaters. And yet she comes across as rather too mature in manner to fall for such a consciously childish figure as Stephane. Gondry leads the two on what look like adult playdates, working on felt animals and cellophane rivers and playing with a time machine that stutters the clock back or forward one second.
Stripped of its cuteness, Gondry's idea is appealing—Stephane and Stephanie's fragile love breaks down the barriers between nightly fantasy and daily reality. Linked in mutual dream life, the two could be free from that cold rule, phrased by Joseph Conrad: We live as we dream—alone. True, Gondry's use of stop-motion animation is clunky and delightful. A cardboard Paris sprouts up, built by Tonka bulldozers. A magic electric shaver grows hair all over a nagging boss, transforming him into a bearded homeless man. This cloth and cardboard world occasionally has the charm of Winsor McCay's Little Nemo cartoons. Sweet as this is, though, ultimately one can accept no substitute for the real Pee-wee.

The Science of Sleep (R; 106 min.), directed and written by Michel Gondry, photographed by Jean-Louis Bompoint and starring Gael García Bernal and Charlotte Gainsbourg, opens Sept. 29.
Send a letter to the editor about this story.