September 27-October 3, 2006
home | metro silicon valley index | the arts | visual arts | review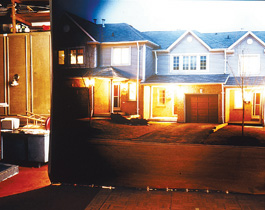 Behind the Facade: A detail of Larry Sultan's 'Suburban Street in the Studio' reveals a secret use of empty tract homes.
Tract Trackers
The California artists in 'Suburban Escape' explore the farthest reaches of sprawl
By Michael S. Gant
WHERE I GREW UP, first in the San Fernando Valley and then in Orange County, suburbia meant long, low ranch houses scattered amid a quilt work of pastures and orchards that hadn't yet been absorbed for housing. Looking at the photographs and paintings in "Suburban Escape: The Art of California Sprawl," at the San Jose Museum of Art, I was struck by how much denser and vertical the suburbia depicted by many California artists has become. Robert Arneson's affectionate multicolored ceramic sculpture Model of Alice House (1966), for instance, depicts his modest bungalow home near Davis as a low, well-landscaped ranch home with plenty of room to stretch out in a backyard with mature landscaping.
But most of the works emphasize a compression of people and buildings. Robert Isaacs' famous photograph Ticky Tacky Houses of Daly City (1968) fills the frame with rank after rank of identical units marching up the hillsides—the uniform pattern of the rooflines flattens the perspective until there is no sense of distance left. In End of Horizons, Fandra Chang uses digital tricks to seamlessly combine photos of individual tract homes into an unending vista of rampant overdevelopment. Even Alviso (!) appears overrun with three-story minimansions on narrow lots stretching across the horizon in a four-panel photo by Angela Buenning. In the ultimate demonstration of how the suburbs finally achieve a level of compactness that rivals even the largest metropolis, Mark Campbell covers a large tabletop with thousands of tiny rubber-resin Monopoly houses pressed together without even the hint of roadways in between. Translucent and amber in hue, the houses fill the landscape like a mat of golden lichen on a flat rock. The piece is aptly named Maximum Density.
The show, curated by Ann Wolfe, gives examples of both dystopian angst and adaptive optimism. In Lewis Baltz's photo, Tract House #4 looks like an abandoned meth lab; Todd Hido's Outskirts series of photos of suburban streets at night have the flavor of David Lynch's Blue Velvet, with their hints of sinister activity behind stucco walls. Larry Sultan, one of the great poets of suburbia, returned to the San Fernando Valley of his upbringing to learn that many unsold houses were rented out to porn companies as film sets. His Suburban Street in the Studio print plays off the idea of facade vs. reality, with the outside of a house projected on a scrim that only partially hides a disheveled interior where the cameras grind.
Bill Owens, another bard of the 'burbs, finds a sense of genuine community in his photo This is our second annual Fourth of July block party ...; the cul-de-sac where the neighbors gather might look like a dead-end to New Urbanists but the casual interaction is folksy and unforced. People seek out affinities, regardless of architecture. In a surprising upending of Isaacs' Ticky Tacky Houses, photographer Jeff Brouws discovered that many of the homes in Daly City have been occupied by a new generation of immigrant families, who have individualized them with marvelous multihued paint schemes of pink and gray, deep crimson and orange sherbet. The cookie-cutter facades have been redeemed by creative use of latex icing. The piece that best encapsulates the diverse poles of nausea and nostalgia in these artists is Darlene Campbell's painting (IMBY)) In My Backyard, a gorgeous landscape of the California hills under a high, cloud-filled sky. The gold-leaf arch frame at the top enhances the almost religious quality of this landscape that so entranced the California Impressionists of a century ago. Look closely, however, and you can see McMansions marching across the ridgeline.
Suburban Escape: The Art of California Sprawl shows through March 4 at the San Jose Museum of Art, 110 S. Market St., San Jose. (408.271.6840)
Send a letter to the editor about this story.