September 27-October 3, 2006
home | metro silicon valley index | movies | current reviews | film review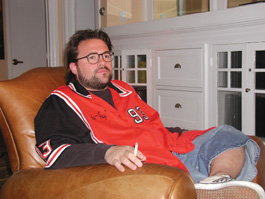 Clerk II? Offensive, You Must be Kidding?: Kevin Smith is one of many disgruntled directors interviewed by Kirby Dick for 'This Film Is Not Yet Rated.'
Don't Look!
'This Film Is Not Yet Rated,' and it never will be if the MPAA has its way
By Richard von Busack
KIRBY DICK'S documentary This Film Is Not Yet Rated is yet another 2006 release that may not really be cinema as we know it. Whether This Film Is Not Yet Rated plays fair is one thing; whether it's funny is quite another. Dick comes across as an amusing haranguer, and he has a point. The abject backwardness of the Motion Picture Association of America's ratings system has been emasculating the American cinema for decades. The anonymous, no-commenting judges are supposedly parents, who believe that children can handle "cartoon violence" but will blow a gasket if they see nudity. Violence never gets rated as heavily as sexuality or "pervasive" (i.e., "everyday") language. Dick interviews the heads of indie film companies who claim that the MPAA goes easier on major studio releases than on small-scale films. Finally, the documentary provides convincing evidence that the female orgasm is the ultimate hot button for the MPAA: to paraphrase The Rocky Horror Picture Show, it's the pelvic thrust that really drives them insane. Chloë Sevigny in the throes of a Hilary Swank-induced orgasm in Boys Don't Cry made the MPAA ask for an NC-17. As Maria Bello and her director Wayne Kramer claim for Dick's camera, a flash of Bello's pubic hair in The Cooler sent them back for recuts.
From its website, the MPAA's ratings seem even weirder. The extremely pro-marriage comedy Matador earned an NC-17 for "aberrant sexuality," whereas the very anti-monogamy Last Tango in Paris got one for "explicit sexuality." (What, the butter scene wasn't aberrant?) Good old John Waters, interviewed by Dick, tells of his surprise that A Dirty Shame should be rated NC-17 (the MPAA finally found out what "felch" meant). This comedy shares a rating with his far meaner Pink Flamingos, nailed for "a wide range of perversions in explicit detail." Evil Dead (presumably ED2) got its no-children-ever NC-17 rating for the comforting-sounding "substantial graphic horror." Nobody enjoys insubstantial graphic horror.
Dick acknowledges that the MPAA originally served as a safeguard to protect Hollywood from trouble from ambitious senators and pressure groups. Dick doesn't trace quite as well the consequences of releasing an unrated film. The second half of This Film Is Not Yet Rated is more like watching a TV consumer-beef reporter at work. In the name of justice, Dick hired a pair of lesbian private eyes to unmask the MPAA's members. These easygoing Disney-character-loving moms deserve their own documentary. "I kind of get a thrill out of watching someone, and they don't know they're being watched," says one of them, as if she had been keelhauled through Christian Metz's The Imaginary Signifier in film-theory class.
Dick and his private dicks ferret out the names of all the MPAA members as well as those on the appeals board, but the exposure of the license plates of the MPAA members seems pointlessly cruel. Nevertheless, the MPAA's star-chamber-level secrecy and its refusal to describe what it finds objectionable are artistically crippling the American cinema. Ironically, it took a Dick to challenge this screwing.

This Film Is Not Yet Rated (Unrated; 97 min.), a documentary by Kirby Dick, opens Sept. 29.
Send a letter to the editor about this story.