09.30.09
home | metro silicon valley index | columns | silicon alleys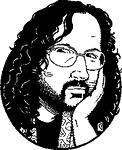 Silicon Alleys
Zeroing In on Mariachis
By Gary Singh
BY THE TIME you read this, the San Jose Mariachi and Mexican Heritage Festival will be over for this year. One particular aspect of this multidisciplinary festival that caught my eye this time around was the new partnership between the festival and ZER01: The Art and Technology Network.
ZER01 is the complex nonlinear dynamic system of folks who produce the 01SJ Art Biennial, the next incarnation of which takes place a year from now. They are not just people who sit there in the boardrooms and show up once every two years to put on a festival. With a presence in San Jose 365 days a year, ZER01 is always at work developing projects, partnerships, competitions, calls for works and whatnot. This year's Mariachi and Mexican Heritage Festival was just one example. If everything went as planned after my deadline, ZER01 took part in the daylong Feria del Mariachi last Sunday in Plaza de Cesar Chavez. Four installations by Latino artists who work with technology were featured in ZER01's own section of the festival.
Local artist and educator Pilar Agüero-Esparza teamed with another San Jose artist, H. Dionicio Mendoza, to create an interactive space called CANCÓN Courtyard & Chavez Mural House, a space featuring a courtyard, a cyberlounge and a mural about Cesar Chavez. Argentine artist Gustavo Romano brought his "Lost Time Refund Office," a performance project using actors, computers and other technology to portray the loss, transfer and restoration of time.
Mexican Internet artist Arcángel Constantini showcased video-game projects by Mexican artists and also "audio-electrocuted" volunteers with his mobile Icpiticayotl box. Náhuatl for electricity, Icpiticayotl uses electroshock to involuntarily contract users' muscles in sync with sound oscillations to establish synaesthesia. The harmless experiment was designed to give visitors the same adrenalin rush los señores de los toques have been giving cantina patrons as a chaser to their cerveza for centuries. He said the idea was to shock people into experiencing "the underlying electromagnetic nature of the physical universe through visceral exaltation."
Technology is just another tool for artists to use, and ZER01's mission, aside from organizing the San Jose biennial, is to function as a catalyst for arts organizations whose disciplines don't normally involve technology, and help them find appropriate ways to engage with it.
"ZER01's presence at the Mariachi Festival is a good example," says executive director Joel Slayton. "It's really about reimagining the urban village, identity, sustainability, borders and the politics and economies and issues therein. Technology is the common frame of reference upon which such ideas get illuminated."
Another example can be found incubating over at the San Jose Museum of Quilts and Textiles, which will launch a brand new gig next year in conjunction with the 01SJ Biennial: The International TECHstyle Art Biennial 2010. This will be perhaps the only museum show in this part of the world specifically dealing with how fiber artists use technology. It will explore the potential of combining fiber media with new information and communication technologies in the artistic process—both in the content of the work and as a means of artistic expression. If you're confused, this doesn't refer to a quilt with circuit boards glued to it for cosmetic effect. Instead, you might see a 3-D demo of woven double-velour vascular grafts impregnated with purified bovine collagen, and how this textile technology can be used for creative purposes.
Finally, ZER01 also helped catalyze the San Fernando Corridor Project, a call for temporary public art works to be installed along San Fernando Street, from Diridon Station all the way to downtown, during the months leading up to next year's 01SJ Biennial. "Corridor" is one of those hip urban-planning buzzwords for an area too narrow to qualify as a "district" or a "creative gulch," so San Fernando is perfect. The theme of the 01SJ Biennial is "Build Your Own World," which easily brings up all sorts of ideas for those who want to take advantage of the San Fernando Street urban landscape. Don't even get me started.
Contact Gary Singh or send a letter to the editor about this story.