09.30.09
home | metro silicon valley index | music & nightlife | band review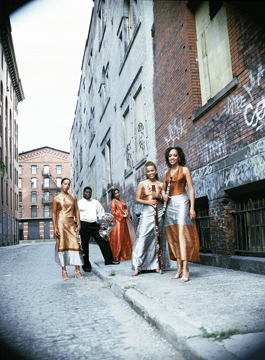 Photograph by Jeff Fasano
MIGHTY WINDS: The Imani Winds visit the San Jose Chamber Music Society this Saturday.
Classical Moves
By Michael S. Gant
FOR ITS opening concert of the season, the San Jose Chamber Music Society welcomes the Imani Winds to town. For more than a decade, the Grammy-winning quintet has pushed past the usual classical categories with unusual collaborations and an invigorating mix of familiar and cutting-edge works. For this program, the group will perform selections by Medaglia (Suite Popular Brasileira), Lalo Schifrin (La Nouvelle Orleans), Ligeti and D'Rivera—and a klezmer dance for good measure. Saturday (Oct. 3) at 8pm; Le Petit Trianon, 72 N. Fifth St., San Jose; $28–$40; 408.286.5111.
The Redwood Symphony finds common ground in Ravel and Gershwin. The evening features the beloved An American in Paris, which leads naturally to the French composer's Tzigane, with guest violinist Robin Sharp. The roster is rounded out with Chang's Strange Air and Bernstein's Fancy Free. Saturday (Oct. 3) at 8pm at Caņada College Main Theatre, 4200 Farm Hill Blvd., Redwood City; $10–$25; 650.366.6872.
San Jose's Lyric Theatre strays a bit from its usual fare of Gilbert & Sullivan to present Rodgers and Hammerstein's fairy-tale musical Cinderella. More than 50 years ago, Julie Andrews, all of 21, starred in the live-TV version of the musical. Oct. 3, 9–10 at 8pm and Oct. 4, 10–11 at 2pm; Montgomery Theater, 271 Market St., San Jose; $26–$36; 408.986.1455.
Montalvo begins its Villa Chamber Music Series with a performance on Sunday by the St. Michael Trio, musicians in residence at Menlo College. In additional to the more familiar classical repertoire, the trio also encompasses some jazz sounds. Sunday (Oct. 4) at 2pm; Historic Villa, Montalvo Arts Center, 15400 Montalvo Road, Saratoga; $20–$30; 408.961.5858.
Send a letter to the editor about this story.