09.30.09
home | metro silicon valley index | music & nightlife | band review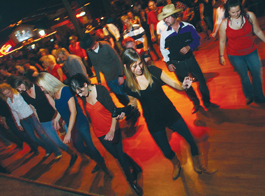 Photograph by Felipe Buitrago
LEARNING THE ROPES: Saddle Rack patrons learn the basics of line dancing.
Step to It
By Colleen Watson
'ONE, two, three, four—left, right, OK, now dip." The awkwardness of dance lessons makes them strangely fun, or maybe I'm a masochist. Beginning dance lessons are the great equalizer—everyone sucks. But they are also fun. Depending on the type of dance, one is either standing alone (for things like hip-hop and line dancing) or dancing with a partner. Often bars will offer dance lessons earlier in the night, so participants can get a frosty beverage that might help them loosen up a bit.
I tried Tango. I basically ended up walking backward in a circle for about an hour and randomly changing partners. My instructor came up every few minutes and lifted my elbow or told us to do this or that. It kind of felt like a junior high dance.
There was a lot of laughter, and I must say I learned a few things: always wear closed-toed shoes to a beginning dance lesson; try not to stare at your feet. If you're a guy, try to be a good leader; if you're a girl, try not to lead. Here are a few spots to learn how to shake your tail feathers.
Agenda
Salsa; 399 S. First St., San Jose; 408.287.3991
Alberto's
Salsa, tango, Latin dances; 736 W. Dana St., Mountain View; 650.968.3007
The Saddle Rack
Line dancing; 42011 Boscell Road, Fremont; 510.979.0477
Starlight Dance Club
Hip-hop, ballroom, swing; 1400 N. Shoreline Blvd., Mountain View; 650864.9150
Send a letter to the editor about this story.