09.30.09
home | metro silicon valley index | silicon valley restaurants | review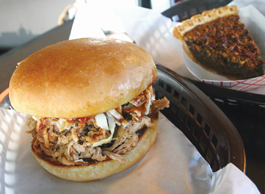 Photograph by Felipe Buitrago
PULL PARTY: Blue Rock serves a pulled-pork sandwich with cole\slaw and pecan pie.
Borderless Barbecue
New Blue Rock BBQ in San Jose ranges far and wide to find smoked goodness
By Stett Holbrook
I ADMIT IT: when I first came across Blue Rock BBQ's polished website, I thought that the place was a chain. What's a real barbecue joint doing with a fancy website anyway? A barbecue restaurant is supposed to be low-tech, just smoke and fire and picnic benches and a battered screen door. Who's got time for 'puters and Internets when there's ribs and brisket in the pit?
But upon further investigation, I discovered Blue Rock is a locally owned place. It's an order-at-the-counter restaurant with dark-wood tables and cushy leather banquettes. It's set in a east San Jose minimall and feels a bit corporate, but it's hard not to be seduced by the restaurant's good looks and the pleasant demeanor of owner Owen Jobson. (Maybe those factors account for Blue Rock's victory in the barbecue category of last week's Best Of issue.)
Most barbecue restaurants specialize in one kind of regional smoked meat: Texas, St. Louis, North Carolina, etc. Blue Rock BBQ breaks the rules and serves barbecue from far and wide. As long as it's good, that's fine with me. Instead of a big pit smoker, Blue Rock smokes its meats in squat units the size of a dorm refrigerator. The smokers use wood chips (almond, pecan and hickory) instead of cut wood.
Ever since I had a pulled-pork sandwich on a childhood trip to North Carolina, I've been trying to recapture that moment of slow-smoked barbecue bliss. Blue Rock's Tennessee-style pulled-pork sandwich ($6.75) comes close and will keep me happy until I can get back to North Carolina.
Made with pork shoulder slow-cooked over pecan and hickory smoke, the meat is moist with well-integrated smoke flavor. To me, bread is 50 percent of a great sandwich, and this one comes with a great bun. It's a sturdy white roll with a thin crust that holds up to the juicy meat and the addition of barbecue sauce if you so choose. A spongy hamburger bun wouldn't cut it.
All the sandwiches are available with a choice of side dishes. Get the coleslaw. For me a proper pulled-pork sandwich needs the crunch and sweet-and-sour bite of slaw; tossing in a bit of the slaw elevates the sandwich significantly.
That said, the quality of the slaw at Blue Rock varies widely. On one visit, it was swimming in a vinegary-mayonnaise dressing, but on another it was almost dry. It was as if I got the bottom of the batch one time and a scoop off the top layer on another. Somewhere in between would have been better. A simple stir would have solved the problem.
Another good choice is the Cuban sandwich ($7.25), a menu item that fits into the restaurant's "barbecue without borders" motto. It's a pressed sandwich of pulled pork, sliced ham, Swiss cheese, mustard and a pickle served on a thin, well-toasted white bread. The pork was a bit dry, but the mustard and pickle saved the day. Eat this one right off the grill. It loses its mojo once it cools down.
If a barbecue restaurant is going to get one thing right, it should be the ribs, and Blue Rock's rock. The meaty pork ribs (half-rack $14.75) are juicy and smoke-suffused with a caramelized crust of tangy goodness. The ribs are served without additional sauce, so you add some of the excellent squirt-bottle sauce served on the table if you want.
Less good was the north Alabama smoked-chicken-leg plate ($7.95). While moist, the meat was thinly flavored with smoke and tasted as if it had just been tossed on a backyard Weber. OK, but nothing special. The chicken is dunked in a vinegary white barbecue sauce, but it didn't do much for me. The splotchy skin, white in some places and reddish brown in others, didn't help, either. It looked like a burn victim.
Plate dinners come with a choice of two sides, but there is none that I can recommend. The coleslaw, as I mentioned, is uneven. The beans are too sweet. The potato salad is flavorless and dull. The macaroni and cheese is OK, and the green salad is just a green salad. Why no collard greens?
Another disappointment was the sirloin plate ($8.95). Sliced thin like roast beef, the meat was bland; it was hard to believe it spent much time in the smoke.
Things looked up at dessert. All are made in-house and the pecan pie ($2.35) was my favorite. The crust is thick but flaky and loaded with sticky, sweet pecan filling. The tangy lemon bars ($1.85) with more of that butter crust are good, too. San Jose is not barbecue country, and while the food at Blue Rock is uneven, there's still some good barbecue to be had.
---
Blue Rock BBQ
Address: 3001 Meridian Ave., San Jose.
Phone: 408.978.2583.
Hours: 11am–9pm Mon–Sat and noon–8pm Sun.
Cuisine: Barbecue.
Price Range: $6.75–$14.75.
Web: bluerockbbq.com.
Send a letter to the editor about this story.