09.30.09
home | metro silicon valley index | movies | current reviews | film review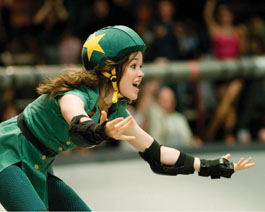 Photograph by Darren Michaels
ROLLIN' AND TUMBLIN': Ellen Page plays a roller derby hopeful in 'Whip It.'
Wheels on Fire
Drew Barrymore's 'Whip It' shows what happens when girls collide
By Richard von Busack
THE LEAD CHARACTER in Drew Barrymore's first feature film as a director, Whip It, is named "Bliss." The movie is bliss, too. Ellen Page's Bliss Cavendar lives in Bodeen, Texas. She's a 17-year-old perennial on the local beauty-pageant circuit, pressured to enter by her mom, a finalist some years before. When not being gowned and styled, Bliss works as a server at the Oink Joint, a roadside cafe with a jumbo concrete pig on top of it. Bliss is meant for finer things. She doesn't know what they are until she's shopping for shoes at an Austin used-clothes boutique. In come three members of the Hurl Scouts, a local semilegal roller derby team. Unbeknownst to her parents, Bliss joins them. She adopts the name "Babe Ruthless" and takes warnings from the fragrantly weird coach, who calls himself "Razor" (Andrew Wilson): "There's a lot more to roller derby than torn fishnets and a tough name."
Barrymore has rescued Page from the career-killing move of repeatedly playing the smartest person in the room; usually the way out from cold, brainy roles is to play a part with a lot of nudity, but Whip It offers a wilier strategy for Page. We get to see the speed and energy in Page's tiny frame, since she's playing an athlete, of sorts. Whip It's retro side goes beyond the Devo title; Bliss and her best pal, Pash (Alia Shawkat, terrific), are fans of the Ramones; Bliss' first meeting with a boyfriend-to-be occurs in an Austin lair full of vinyl LPs, and a first notice of a roller derby turns up on a Xeroxed flier. It's clear that there's something autobiographical here about Barrymore's own story as an actress made to glam up by producers, even while she preferred the punker, funkier side of life. Barrymore herself plays a klutzy member of the Scouts, a Calamity Jane turning up with a bloody nose, a whiplash collar or crutches. This actor-turned-director takes great pleasure in the democratic side of comedy and in the uniqueness of small towns.
The acting is superior on down the line. As the parents, Marcia Gay Harden and Daniel Stern display a fond rapport, unobserved by Bliss. The camera steals up in a private moment. Despite her beauty-queen past, Mom is glimpsed propping her foot up on the kitchen counter, leaning back and having a smoke. Kristen Wiig shows serious dramatic heft as the motherly member of the roller squad, and in a noteworthy comeback role, Juliette Lewis smolders away as the well-motivated villain on a rival team.
A sports movie makes its own gravy. The rhythms are easy: parents object, then surrender; daughter rebels, then makes peace; problem of conflict between big beauty contest and championship rally gets, of course, solved. The third act turns a little wooly. Barrymore could have cut across some of the plot loops to get this film where we know it's going to go. Whip It's movie's message to the girls—"Put on some skates and be your own hero"—the kineticism of the rough-and-tumble rallies, and Barrymore and scriptwriter Shauna Cross' wit, lets Page hold the screen like never before. This won't earn the prestige of Juno, but it's a far, far better movie. It has quirk without suck.

WHIP IT (PG-13; 111 min.), directed by Drew Barrymore, written by Shauna Cross, photographed by Robert D. Yeoman and starring Ellen Page, opens Oct. 2.
Send a letter to the editor about this story.