09.30.09
home | metro silicon valley index | movies | current reviews | film review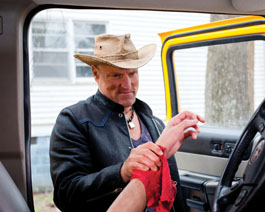 Photograph by Glen Wilson
LENDING A HAND: Woody Harrelson plays with the body parts in 'Zombieland.'
Dead Reckoning
Woody Harrelson stalks the wasteland in self-conscious 'Zombieland'
By Richard von Busack
IT'S ONE THING to make a movie where all the characters know they're in a movie. It's another to have them remind the audience that they know they're in a movie, up to the point where the pleasure starts to wane. Zombieland starts with a foolproof idea. We have the usual zombie plague—this time, raging cannibalism that migrated up from mad-cow-tainted hamburger. The United States is in ruins, and the nervous college-age hero (Jesse Eisenberg)—known to us as Columbus—calls the dreadful landscape Zombieland: a new land with new rules. He joins three reluctant companions: a Twinkies-loving cowboy called Tallahassee (Woody Harrelson), a fast female loner named Wichita (Emma Stone) and her little sis, Little Rock (Abigail Breslin), whom Wichita was raising in the grifter trade before the zombies took over. All four head to a place where they think the light at the end of the tunnel still shines: Disneyland, renamed "Pacific Playland" and played by Wild Adventures amusement park in Valdosta, Ga.
There's merit to the idea of a turkey-shoot zombie-killing finale amid colored lights and spinning rides, but the film doesn't get more imaginative than the previews—the idea doesn't go anywhere. Under Ruben Fleischer's bare-bones direction, Zombieland is slathered with narration by Columbus, reiterating zombie-fighting rules: the "Double Tap" being very important. Eisenberg—more covertly funny in his last amusement-park movie, Adventureland—frets about safety issues and worries about girls, and on the road he gets sassed by Tallahassee as a wimp.
Harrelson is a fierce-looking party, who seems to soar to almost 7 feet; circumstances should have led to some legendary behavior, but it's a performance that doesn't build, except to a shootout. The ever-bigger guns, the snakeskin sports coat and a habit of painting Dale Earnhardt Jr.'s No. 3 on the side of whatever monster-size truck Tallahassee commandeers—this would all be funny if there were some cracked frontier lore to go with it. (Where was a Cormac McCarthy parody when they needed it?) And Tallahassee doesn't have the other side of the John Wayne hero, the silent gentleness. The way this movie trashes Western tropes can also be seen in a scene where the four refugees trash a desert Indian curio stand just to watch stuff break, sending the pottery, beads and Western-theme plates flying—a bit of fun-free slapstick that just looks like waste. One sequence pays off: somehow escaped from the plague is a noted actor, whom the four come to visit in his gated estate. Naming the cameoing star spoils one of the film's few surprises. This imperturbable comedian is a gracious host, glad to see his fans. The Buddhist wai gesture this actor uses to turn aside compliments is the single funniest thing in this movie. (Easy runner-up is Breslin's Little Rock trying to explain to Tallahassee how Hannah Montana and Miley Cyrus can be one and the same person.) In any case, this mystery star pulls his weight, looks healthy and happy—and then he gets sent out of the movie with the customary disdain for people and logic that marks Zombieland.

ZOMBIELAND (R), directed by Ruben Fleischer, written by Rhett Reese and Paul Wernick, photographed by Michael Bonvillain and starring Woody Harrelson, opens Oct. 2. (Get movie updates—follow us at twitter.com/metronewspaper.)
Send a letter to the editor about this story.