09.30.09
home | metro silicon valley index | music & nightlife | band review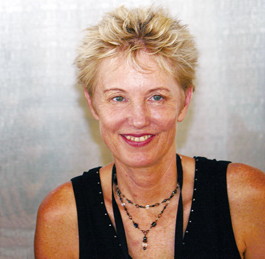 IT'S A BEAUTIFUL WORLD: Folk-rocker Eliza Gilkyson sings Tuesday at the Little Fox.
Eliza Gilkyson
By Steve Palopoli
THEY SAY it's who you know, but for someone from a famous musical family, Eliza Gilkyson had it pretty rough. She started out in the shadow of her father, Terry Gilkyson, who wrote or performed on at least a half-dozen top hits in the '50s and '60s, like Dean Martin's "Memories Are Made of This." Her brother, Tony Gilkyson, was guitarist for Lone Justice and the post–Billy Zoom era of X. But by the time Eliza found her footing in the late '90s with a series of excellent folk records, she had already been recording for 30 years. Unlike her father, she doesn't write hooky pop hits. Her songs are subtle but engrossing, their power time-released slowly with each new listen. And her most recent record, last year's Beautiful World, is one of her best yet. For this show, she's paired with another expert craftsperson, guitarist Nina Gerber, whose instrumental shadings are among the most sought-after on the folk-rock circuit right now.
ELIZA GILKYSON performs Tuesday (Oct. 6) at 8pm at the Little Fox, 2209 Broadway, Redwood City. Tickets are $18/$20. (650.369.4119)
Send a letter to the editor about this story.