09.30.09
home | metro silicon valley index | the arts | stage | review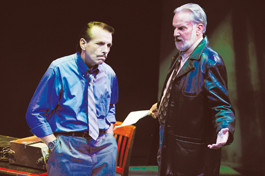 Photograph by Dave Lepori
AUTHORITY FIGURES: Randall King (left) and Julian López-Morillas play tough cops grilling a writer in 'The Pillowman.'
Twisted
San Jose Stage delves into the importance of storytelling in Martin McDonagh's wickedly dark comedy 'The Pillowman'
By Emily Grube
FOR ITS season opener, San Jose Stage Company presents Martin McDonagh's Tony Award–winning play The Pillowman, a collection of twisted children's stories. Despite its sinister subject matter, the play is surprisingly hilarious and moving—it tugs at the heart and the gut simultaneously. As the action begins, a writer named Katurian Katurian (Aaron Wilton) is being interrogated by seasoned cops Tupolski (Julian López-Morillas) and Ariel (Randal King) about the brutal and heinous deaths of several children. It seems that his short stories were the inspiration for the sickening murders, and he and his mentally challenged brother, Michal (Justin Karr), are being tortured for information. Throughout the questioning, several eerie tales are resurrected that lead to enlightenment regarding the characters and the vitality of writing.
The production team does a stellar job of immersing the audience in this stiflingly depressing world. The set is minimalistic, with only a few objects in the room. This allows the audience to envision the opening stories without being overwhelmed by distractions. Once our imagination is exercised and prepared, the scrim is lit from behind to reveal re-enactments of Katurian's other tales that were always there, hiding in the dark. Behind the see-through curtain, the setting is full of small details, gorgeously colored mosaics and faces to go with the victims. The mood of dread is also enhanced by the lighting. The floor is bathed in green and blue lights that are interrupted by branches, evoking the feeling of being lost in a terrifying forest with some predator catching a hold of one's scent.
It is easy to get lost in these seamlessly woven and grim tales, thanks to Wilton's precise narration. His voice leads us, with every inflection and pause, back to our childhood when we felt that reading a story before bed was just as important as eating and breathing. It was our job to listen and imagine, and with Wilton's portrayal, it is our job again. Both López-Morillas and King offer delicious performances. Every mannerism, every delivery is completely owned and understood by these true professionals. Another portrayal that was impressive was that of Katurian's brother. In his Stage debut, Justin Karr is able to breathe humanity into this complex character by implementing endearing gestures and a childlike understanding of the situation. The cast balances horror and humor flawlessly. This daring play is inexplicably able to have audiences laughing uproariously one moment and sitting in stunned silence the next. This production is a gift, wrapped in the darkest of paper, and it is everything you want but were too scared to ask for.
THE PILLOWMAN, a San Jose Stage Company production, plays Wednesday–Thursday at 7:30pm, Friday–Saturday at 8pm and Sunday at 2pm through Oct. 18 at The Stage, 490 S. First St, San Jose. Tickets are $20–$45. (408.283.7142)
Send a letter to the editor about this story.