09.30.09
home | metro silicon valley index | columns | style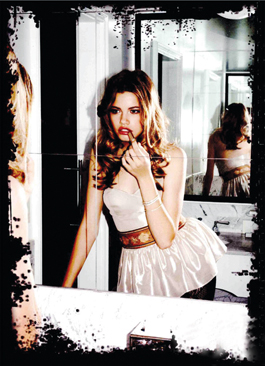 FLOUNCING AROUND: 'The Hills' alum Whitney Port's fashion line Whitney Eve focuses heavily on peplums.
Peplum Talk
By Jessica Fromm
A SHORT FLOUNCE or overskirt attached at the waistline, the retro peplum has been winning over winter 2009 runways with its ladylike fit-and-flare silhouette. Virtually any garment that features a layer of midsection horizontal frill can be considered showing a peplum, whether it is a dress, coat, sweater or skirt.
Though the modern peplum was born in the 1940s, the look actually dates all the way back to ancient Greece, where the term "peplos" meant a specific folded-over toga worn by women. Peplums were again in vogue in the '80s, as a way to feminize outfits when the emphasis was on huge, massively masculine power shoulders. Perhaps the most definitive moment for that decade's peplum look could be seen in the frothy comedy Troop Beverly Hills, in the party scene where Shelley Long falls into a pool and starts shrieking "I'm drowning, I'm drowning" while clad in a enormous multilayered pastel peplum creation.
Since the '80s have been an overwhelming influence on the fashion industry as of late, it's no surprise that the Reagan-era interpretation of this style is big right now. Poofy, taffeta mini cocktail dresses are currently all over the racks for the younger set at stores like Forever 21 and Top Shop. If one wants to indulge in this trend without looking like an extra at the Bayside High School prom, there are also more subdued versions from designers like Whitney Eve, Richard Nicoll and Shoshanna. Additionally, there is a plethora of peplums on outerwear this fall. Look for fitted short jackets with skirted bottoms that'll look chic when cinched with a skinny belt.Fortunately, the peplum is one of the few waist-friendly trends that will continue into this coming winter. Frocks with fabric flounces right under the natural waist accentuate the hips while hiding unflattering lower-torso bulges. This look is also a winner for apple-shaped women, because the body-shaping ruffle gives the wearer an instantly elegant hourglass figure.
Send a letter to the editor about this story.