10.01.08
home | metro silicon valley index | columns | 5 things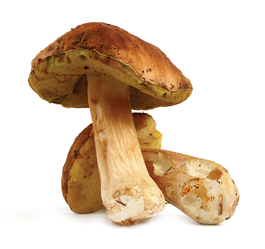 5 Things to Love
Delicious Wild Mushrooms
By Stett Holbrook
FALL is here, and colder, wet weather is on the way. Bring it on. Cold and rain mean wildmushrooms. Here are five great wild mushrooms to keep an eye out for in the months ahead.
Candy Cap A West Coast specialty with a flavor akin to maple syrup or butterscotch.
Hen of the Woods Growing as big as 50 pounds, the hen of the woods mushroom, also known as a maitake mushroom, has a rich, earthy and even chickeny flavor.
Lobster Mild seafoodlike flavor. Recently spotted on the menu at Parcel 104.
Matsutake With its delicious, piney, cinnamonlike flavor, the matsutake is one of the most sought after—and expensive—mushrooms on the market.
Pacific Golden Chanterelle Another West Coast delicacy, the Pacific golden chanterelle grows in a symbiotic relationship with conifer trees like Douglas firs and packs a nutty, faintly piney flavor.
Send a letter to the editor about this story.