10.01.08
home | metro silicon valley index | the arts | visual arts | review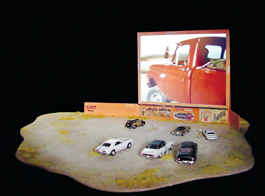 Courtesy of the artist and Tache-Levy Gallery, Brussels
MOVING IMAGES: Moving Images Miniature travelers gather at Tracey Snelling's mixed-media sculpture 'Twin Drive-in.'
Drive, They Said
The wide open spaces are full of promise and peril in 'Road Trip' at San Jose Museum of Art
By Michael S. Gant
ON THE ROAD many years ago, a couple of friends and I could still goggle traces of Route 66 out the windows of a pickup with a handmade camper shell bolted to the bed. The old tourist ways—trinket emporia, bad diner coffee—persisted. Somewhere in west Texas, late at night, the vast, flat landscape achieved a form of infinity. No matter how far we drove, we seemed to linger in the middle of nowhere.
That relentless immensity of a ribbon of asphalt pointing the way to a horizon forever out of reach is captured perfectly in Dorothea Lange's 1938 gelatin silver print The Road West, New Mexico, 1938. The two-lane blacktop bisects a dark featureless plain with no real end in sight. Lange's picture serves as an apt opening to the wide-open possibilities of "Road Trip," a large and eclectic show of art in many media, of multiple moods and meanings, at the San Jose Museum of Art. The various themes of the open road, tourists and travelers, car culture and roadside attractions allow for a diverse, maybe too diverse, collection of pieces.
This inclusionary spirit permits everything from Jeff Brouws' color photos of neon beacons in the night (The Capri Motel, Joplin, Missouri and Gas Station, Groom, Texas) to a photo from Todd Hido's Outskirts series depicting a row of ticky-tacky houses alongside a section of guard rail. This same photo was used two years ago at the museum to make a different point about suburban sprawl. Similarly, Verda Alexander's wonderful installation Run A Ways, a tangle of 3-D freeways made from cardboard, speaks more to the clotted commutes of our cities than to the unfettered rush of a real road trip.
In Roger Minick's color photographs, the tourists have come, seen and conquered. Posing at photo ops, these smiling vacationers with their bright shirts and tans outshine the vistas behind them. Lee Friedlander's South Dakota turns the camera around to show us gawkers pointing their binoculars at Mt. Rushmore, which we can only glimpse as a reflection in the windows of the visitors center.
Angst eats away at the romance of the open road in Amy Stein's Stranded series. Stein photographs stuck motorists, hoods up, waiting for a tow truck. The dejected, wary travelers stare at the camera with alarming directness, as if to say, "This could be you." A tension permeates these images, because Stein doesn't tell us if she helped her subjects or only recorded their plight.
Performance anxiety stalls Margarita Cabrera's Vocho, a red Volkswagen made from a few solid, real car parts—a bumper, a chrome mirror—and lots of sagging vinyl. In the 75-minute video Double Blind, artists Sophie Calle and Gregory Shephard each record in mind-numbing detail the minutiae of their brittle relationship under the stress of a long auto journey. Sasha Petrenko's tiny painted wooden Winnebagos endure the hazards of migration, from Snowbound Winnie to The Flood to The Accident.
Also working with great effectiveness with models is Tracey Snelling (who was last seen in the valley in a terrific 2006 show at the de Saisset Museum). Shrinking the dusty Western landscape to table-top size, Snelling has constructed a drive-in diorama at which toy cars gather before a screen showing a neonoir movie (on a cleverly disguised DVD player). Snelling gets in the last word on the show with The End of the Road, a scaled-down movie set with a looming neon sign blinking out "The End" over a lone motel cabin surrounded by forlorn tufts of dry sagebrush. No doubt the owner of this Robbers Roost attended the Norman Bates School of Hotel Management.
ROAD TRIP shows through Jan. 25 at the San Jose Museum of Art, 110 S. First St., San Jose. (408.271.6840)
Send a letter to the editor about this story.