10.01.08
home | metro silicon valley index | silicon valley restaurants | review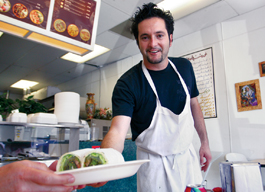 Photograph by Felipe Buitrago
PERSIAN TO GO: Amir Nehrasani serves falafel at Shirin.
Shirin Luck
A twist of fate brings good, cheap Persian food
By Stett Holbrook
I ADMIT I didn't plan on going to Shirin Restaurant, but I'm glad I did. I was headed to lunch at another restaurant on El Camino Real in Sunnyvale, but I was put off by the long wait and insidious cash-only policy. Undeterred, I headed north on El Camino in search of a something else. ECR is a wellspring of good eats and I always seem to find something new and exciting each time I travel this boulevard of culinary delights. Places like Shirin.
I drove past the restaurant and the words "Persian food" and "halal" caught my eye. I flipped a quick U-turn and doubled back. The restaurant is connected to a Persian grocery store so I thought if nothing else the market would keep the restaurant stocked up with fresh produce and taftoon, Persian flat bread. But Shirin turns out to be a sweet little spot with some delicious, low-priced food.
Shirin is named after owner Shirin Parvizi, a friendly, smiling woman who speaks limited English and often defers to her equally cheerful son, Amir Nehrabani. The mother-and-son-duo give the place a homey, welcoming charm.
The 18-month-old restaurant has a half-dozen tables and folding chairs scattered about. Persian TV drones overhead. You order at the counter from the big menu above the counter. There's a menu in Farsi on the opposite wall, and I was worried I might miss out on something not on the English menu, but Nehrabani says the two menus are the same.
It's a fairly standard menu, but there's a lot to recommend. Kebabs and grilled meats are the heart of any Persian restaurant, and Shirin does a good job with them. The saffron- and onion juice–marinated chicken breast kebab ($7.99) is juicy and delicious, but rather mild. The flavorful koobideh kebab ($2.99) made of seasoned ground beef is plump and good. For big flavor, go for the wondrously succulent grilled lamb chops that are even better after a squeeze of lime. The grilled items are available with flat bread or a huge plate of basmati and saffron rice.
Kashk bademjan ($5.99) is kind of like the Persian version of babaghanouj, except that it's topped with fried mint and creamy whey. It's a great side dish with a kebab as is the ash reshteh (small $2.99, medium $5.99, large $9.99), a purée of lentils, pinto beans, garbanzo beans, leeks, parsley and spinach to which a few noodles are added. The noodles are soggy and don't add much, but otherwise it's another good appetizer. All the food at Shirin is either served on disposable white Styrofoam plates or in little plastic to-go containers, not the most environmentally conscious choice, but it suits the restaurant's quick-serve style.
Meat is prominent on the menu, and along with the falafel sandwich ($5.99) the kookoo sabzi sandwich ($5.99) is one of the few vegetarian options. Kookoo sabzi are light vegetables patties made from puréed spinach, parsley, green onion, eggs. Wrapped up in flat bread with pickles, lettuce and tomatoes, it's a good sandwich made better with the addition of the tomato salsa Shirin keeps hidden behind the counter.
For more substantial fare, ghormeh sabzi (small $5.99, medium $7.99, large $12.99) is a Persian classic that's done well here. It's a greenish vegetable and beef stew made with parsley, leeks, green onions, spinach, kidney beans and tender chunks of meat. But it's the salty, sour, funky flavor of dried limes that give the dish its personality. Ghaimeh bademjan ($7.99) is another hearty stew made with yellow lentil, roasted eggplant and dried limes in a tangy tomato sauce.
Fesenjan ($7.99), chicken in a thick pomegranate-walnut sauce, is one of my favorite Persian dishes. Here it's as deep and dark as mole negro and wonderfully rich. The tartness of the pomegranates is a perfect foil for the richness of the puréed walnuts. (The menu says it's made with hazelnuts, but it's not true. That could be good, though.)
It's not on the menu, but rice plates and stews come with excellent tadik, crispy rice from the bottom of the pot. Shirin's is different than other versions I've had because they first layer the pot with taftoon and drizzle it with oil. The result is a crusty, crunchy, caramelized flat bread and rice treat. Don't try taking it to go, however. After 15 minutes or so it loses its crispy texture.
There's not much in the way of dessert beyond baklava and rice pudding. The baklava is soggy, but if you like the perfumey flavor of rose water, the creamy saffron rice pudding ($3.99) is for you. And if you like quick, low priced food that goes beyond the same old burgers and burritos, Shirin is the place for you, too.
---
Shirin Restaurant
Address: 897 E. El Camino Real, Sunnyvale.
Phone: 408.739.7171.
Hours: 9am–9pm Mon–Sat and Sun 9am–8pm.
Cuisine: Persian.
Price Range: Most entrees $6–$12.
Web: shirinrestaurant.com
Send a letter to the editor about this story.