10.01.08
home | metro silicon valley index | movies | current reviews | dvd review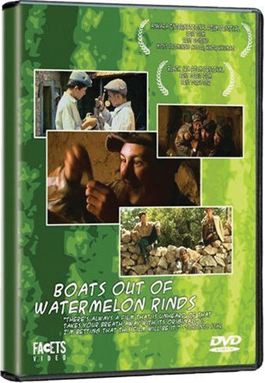 Boats Out of Watermelon Rinds
One disc; Facets; $29.95
Reviewed by Richard von Busack
Ahmet Ulucay's 2004 debut feature film is bound to be sold as a new Cinema Paradiso, but this Turkish slice-of-life drama is more small-scale than the Sicilian art-house classic—and also less emotionally powerful. It's the mid-1960s, in midsummer. Young Recep (Ismail Hakki Taslak) hails from a now-birdless hamlet called Flirting Birds; daily he commutes to a tiny nearby city to assist a dawdling watermelon vendor. Recep and his buddy Mehmet (Kadir Kaymaz) dream of making a cinema out of wooden crates, a flashlight and scavenged snippets of 35 mm film harvested from a hole-in-the-wall movie theater in the nearby bigger town. Recep has other problems: his grandfather has just died, and he's also in love with a ravishing older girl (Boncuk Yilmaz) who seems not to know that he exists. Ulucay's technique borders on magical realism: he's good with little wordless passages, like a suggestive bit about the taste of a stolen walnut representing growing passion. And the director commemorates the necessary guts of a movie projector; for instance, there's a bit about the so-called "Maltese Cross," a widget once given an entire small-things-considered essay by Nicholson Baker. While this is a heartfelt, charming movie, the director is overcome with the lure of the picturesque. These ancient stone streets, unspoiled by cars, are attractive and restful. But the nostalgia is so thick, it's no surprise when Ulucay comments (in a pamphlet included with this DVD) that he feels separate from the traditions of Turkish filmmaking: "I feel that my roots are more likely coming from Walt Disney."
Click Here to Talk About Movies at Metro's New Blog
Send a letter to the editor about this story.