10.01.08
home | metro silicon valley index | music & nightlife | band review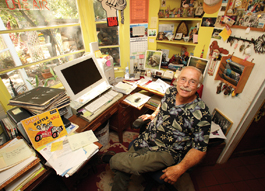 SANDMAN: Sleepy John at home
Roots Rock
Snazzy Productions celebrates 25 years of bringing Americana to Santa Cruz stages
By Paul Davis
OVER the past three decades, Santa Cruz has radically changed. Local art scenes have come and gone, housing prices have shot through the stratosphere and a quiet beach town has become a burgeoning center of commerce at the tip of the Silicon Valley. But there are a few constants that have stretched through that time.
One of them is "Sleepy" John Sandidge, an L.A. transplant who started producing shows in town nearly 32 years ago. This year marks the 25th anniversary of Sandidge's Snazzy Productions, a company that has brought countless marquee acts to town during its tenure and has no doubt had a profound impact on the cultural barometer of the Monterey Bay. To celebrate the event, Snazzy is bringing local favorites Robert Earl Keen and Greg Brown for an anniversary show at the Mello Center on Oct. 3 to benefit the Pajaro Valley Unified School District.
The landmark gives Sandidge an opportunity to do something he generally has little time for—reflect. Before moving to Santa Cruz, Sandidge had never considered entering this music racket. As he explains, "A friend of mine had already moved here, she was working with the United Farm Workers. I'd never been in radio or production before moving here. She asked me to help put on a show in '79, putting on a show with David Crosby. The tickets were $6, I remember that!"
After this auspicious beginning, Sandidge caught the bug and began putting on shows in town benefiting a number of actress Jane Fonda's pet causes and charities. "I just happened to know this woman Miranda Babbet, who happened to know Jane Fonda. We did shows at the fairgrounds with people like Willie Nelson and Bonnie Raitt to benefit Jane Fonda's various projects," he recalls. Sandidge quickly found that dealing in the high-stress, high-maintenance world of marquee stars was not for him, though. "It was so overwhelming with big acts, the hassles and the bad attitudes, I decided I wanted to do smaller, more intimate shows."
Out of this came the genesis of Snazzy Productions. Inspired by the playlists of KPIG forebear KFAT, Sandidge found his niche spotlighting up-and-coming Americana artists whose sensibilities lay far outside the mainstream. Drawn to the burgeoning Texas sound in the early '80s, Sandidge did his best to lure the likes of Robert Earl Keen and the Austin Lounge Lizards out to Santa Cruz to perform for an audience that had a similar, if geographically distant, sensibility. Since then, Snazzy Productions has put on between 20 and 40 shows a year, starting out at the long-defunct Soquel venue the West Abbey Theater.
It's a family affair for Sandidge. Many of the business and publicity duties are still handled by his ex-wife, Pat Sandidge, and his son, daughter-in-law and grandchildren also assist with administrative tasks. Sandidge also credits his longtime partner Becky Mathieson for lending her unending support and patience to his many duties. After all, Sandidge is an inveterate multitasker, known to many by his voice, which has graced the local airwaves since the '80s. Wise and wry, Sandidge's radio persona is somewhere between a much hipper Wilford Brimley and that cool uncle you've always wished you had.
"I've been with KPIG since day one—20 years. I've run the gamut working there, morning guy, afternoon guy," he says. "Now I just do the specialty show, Please Stand By." Please Stand By has become an essential stop for both touring and local acts, all of which the gregarious Sandidge has welcomed. Of course, Sandidge sees presenting a diverse array of music by emerging acts to be part of the station's mission, noting, "What KPIG plays is hardly played on any commercial radio in the country."
Yet even a venerable institution like Snazzy faces an uncertain future. Sandidge says that for fans of live music, there are dark clouds on the horizon. The current dismal economy is presenting its challenges to musicians and independent producers such as Snazzy. "The last three years have had a steady decline in attendance," he says. "I look at the economy as being a big part of that. It costs more for the bands to go out, so we have to charge more for the tickets. Artists from elsewhere in the country can't come as often. Tickets aren't selling as well as they used to—if we had done this show 10 years ago, it would have sold out in minutes."
For an independent production company like Snazzy, which already operates on tight margins, the bottom line has always presented a problem. "We're an independent producer, we don't have a home base with a bar, we have to get all of our income from ticket sales," Sandidge says. "We've always played more for the people who want to go out to early show, don't want to stay out till one in the morning. We've always been looked at as having put on more family shows—we're not there to sell drinks, we're here to put on music."
It's a sobering time for all, but this anniversary celebration gives many reasons to celebrate. A two-fer of epic proportions for KPIG and Snazzy die-hards, this actually marks the first time Robert Earl Keen and Greg Brown have shared a stage. "Me and Robert had already talked about him coming out to play a benefit," Sandidge says. "At a festival, I met Greg Brown and he said, 'I know you know Robert Keen, and I want to do a show with him.' They'd never met before, and I knew Robert was a big Greg Brown fan."
Keen is a far bigger name now than he was when Sandidge first met him in the early '80s, but this one-off gives the Texas Troubadour an opportunity to revisit his roots as well. When Snazzy began booking Keen, he was primarily a solo acoustic performer. Nowadays, as a favorite on college campuses nationwide, Keen has largely abandoned the acoustic for an electric band. "I wanted it to be a retro Robert show with him solo," Sandidge says. "I told Robert that it was a solo show, and he said, 'I'm ready to do that again.' Most of his shows now are for a younger audience, and he can't play a song without the audience screaming 'Robert Earl Keen.'"
Bloodied but unbowed, Sandidge and Snazzy stand prepared to navigate the challenges ahead and continue performing an invaluable service to the community. "We're proud of 25 years of being an independent production company in town," he says. "We're the only one left standing now."
ROBERT EARL KEEN and GREG BROWN perform solo on Friday, Oct. 3, at 7:30pm at Mello Center, 250 E. Beach St., Watsonville. Tickets are $28 and benefit the Pajaro Valley Unified School District. (www.snazzyproductions.com or 831.479.9421)
Send a letter to the editor about this story.