10.01.08
home | metro silicon valley index | music & nightlife | band review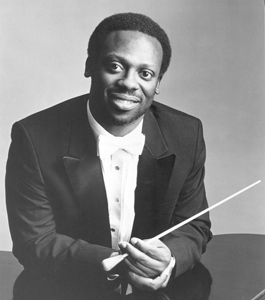 Photograph by Peter Schaaf
IN HIGH RELIEF: Guest conductor Leslie Dunner's fine technique was highlighted at Symphony Silicon Valley's season opener.
Musical Dance
Symphony Silicon Valley started its season with a nod to music written for movement
By Scott MacClelland
ISN'T BALLET without dancers like opera without singers? Well, yes or no, depending on whether the music can hold its own. Any average symphony orchestra would think long and hard about a program of three mid-20th-century ballets. Not so Symphony Silicon Valley—or to make it personal, Andrew Bales, SSV's founding president and default music director, given his background in the dance world and all-around bold leadership. The choice of guest conductor Leslie Dunner was no less important in kicking off the orchestra's seventh season with lots of implicit and even a little explicit footwork.
This was Dunner's third appearance on SSV's podium and seemed if anything to etch his fine technique in even greater relief. And the challenge was not small. The exuberant suite of four dances from Alberto Ginastera's early Estancia (1943) is cluttered with tricky cross-rhythms. The chameleon color changes in the eight movements of Duke Ellington's The River (1970) demand quicksilver shifts from symphonic to big band to jazz combo images. And the 10 movements from Serge Prokofiev's Romeo and Juliet (1935) Suite (1940) require deeply expressive storytelling. Meanwhile, Beth Fleming's program notes, while hugely informative, tended to exacerbate the traffic jam of the 22 individual numbers on parade. (Alas, Ellington's own description of his music quoted here is both corny and utterly superfluous.) Nevertheless, all credit to Dunner, the orchestra, and, above all, the music itself for a wholly satisfying opening night.
As Ginastera's greatest hit, Estancia unfortunately obscures the greater body of his work—and for the general music loving community it always will. The onslaught of its driving energy is irresistible, and while harder listening dissects its subtle and complex innards, such is not required to get it. The one quiet movement, "Danza del trigo," featured flute and violin solos by Maria Tamburrino and Robin Mayforth respectively. The famous final movement, "Malambo," added stamping feet and shouts from orchestra and podium alike (and was reprised as a program encore).
The Ellington score fabulously deploys the jazz maestro's vivid imagination on a vast scale and with a unique sound world. The expected solo piano, blues scale and trap set appear, but not all the time. The writing for (French) horns and woodwinds is masterful and distinctive. The dynamic range is wide from whispers to exciting climaxes. The slow movement, "Lake," provided Tamburrino another of her many solo cameos and gave rise to Latin rhythms. String outbursts over droning winds punctuated "Riba" and ended with a double-bass pizzicato solo. "Village Virgins" intoned a hymn that morphed into gospel, a kind-of Amen to the nominal river as it at last finds the sea. With Dunner in charge, this was great stuff.
Days later, the Romeo suite still rings in the ear, from its opening promise of tragic conflict and awesome pesante processional to the closing "Death of Tybalt" (configured this way for concert purposes). While "The Child Juliet" was the most mercurial orchestral display, the real heart of the suite are the back-to-back "Romeo at Juliet's Before Parting" and "Romeo at the Grave of Juliet." Prokofiev's genius is never more achingly heart-felt than here and the musicians made a haunting case for it.
Send a letter to the editor about this story.