10.03.07
home | metro silicon valley index | columns | silicon alleys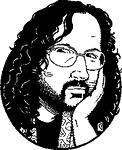 Silicon Alleys
The Revenge Of Public Art
By Gary Singh
O
NE OF THE HIPPEST events of last year's ZeroOne festival in San Jose was Akira Hasegawa's project, (D-K) Digital Kakejiku San Jose, a full-blown, full-color abstract projection on the entire front edifice of City Hall and the rotunda. It was simultaneously a wondrous and a supernatural experience—a grandiose method of reinterpreting a public space as a Japanese-style digital wall hanging of sorts. Hundreds of colors changed ever so subtly on the surface of the building for hours during every single night of the festival. It was like haiku poetry in the sense that there was no specific meaning on the surface—you had to look between the lines. You felt wholly, utterly, unreservedly immersed inside a piece of public art and the entire shindig was pretty close to being yanked physically into the space. It was a visceral experience. Hundreds of people showed up for the unveiling ceremony.
Hasegawa has produced similar projections on buildings all over the world and it was pretty slick to see this done right here in San Jose—a fact that completely showcased the international ultra-high-tech madcap razzamatazz of the ZeroOne festival. It could only happen here in Silicon Valley and a simple Google search finds several folks who've posted photos from Hasegawa's video projection.
ZeroOne will take place every two years, and the organizers are already ratcheting up the hype for next year's festival. Over at City Hall, for example, right now through Oct. 6 during the nighttime hours, you can see yet another heroic public art deed. This time it involves another video projection as well as proprietary motion-tracking software. I ambushed the artist, Camille Utterback, as she was setting up for the main unveiling last week.
A City Hall employee had to "badge me up" to what I guess could be called the catwalk area of the rotunda. Once you get up there, there's a little miniature door that you have to crawl through in order to access the particular locale where Utterback was setting up her equipment—just inside the windows on the western side of the dome. Downstairs in the rotunda itself, a suit-and-tie function of the Asian-American Bar Association took place while Utterback sat there upstairs and planned out the main rehearsal for the project. Physically crawling through that door to go yak with her felt bizarrely subversive, like I was getting away with something I wasn't supposed to be doing and accessing a place I wasn't supposed to have access to.
Following that sentiment, it only makes sense that this whole art project somehow involves skateboarding. After descending upon City Hall, Utterback noticed that skaters often invade the place at nighttime, so she wanted to track their movements and use them to help drive the video projection. A rich skateboarding subculture has always existed here in San Jose, and it's always entertaining to watch the security guards at City Hall shoo the skaters away. So I guess it's only appropriate that an internationally renowned artist is here in town to use motion-tracking technology to map their movements.
Utterback's work has been exhibited at galleries, festivals, and museums across the globe, including the American Museum of the Moving Image in New York, the NTT InterCommunication Center in Tokyo, the Seoul Metropolitan Museum of Art, the Netherlands Institute for Media Art, the Taipei Museum of Contemporary Art, the Center for Contemporary Art in Kiev, Ukraine, and the Ars Electronica Center in Austria. And now she's at San Jose's City Hall.
With all the hideous monstrosities usually passed off as "public art" in this town, this is something cool, and the main essence of the ZeroOne festival, when it comes back next year, is to establish San Jo as an art and technology mecca, which it absolutely should be, especially if they continue to bludgeon us over the head with this "Capital of Silicon Valley" stuff.
Contact Gary Singh or send a letter to the editor about this story.