10.13.07
home | metro silicon valley index | the arts | visual arts | review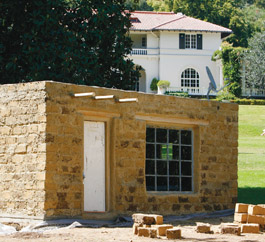 Photograph by Dixie Sheridan
A Home Away From Home: For 'Iraq: Reframe,' Wafaa Bilal has built a traditional Iraqi house at Montalvo.
Shock And Art
Montalvo Arts and San Jose venues host the visions of Iraqi artists in 'Iraq: Reframe'
By Steve Hahn
BOB SAIN scrutinized the wall-size map hanging from the ceiling of the Los Angeles County Museum of Art, where he directed the interdisciplinary lab program. Large dots indicated the most prominent cities: Baghdad, Mosul, Kirkuk, Basra. Nowhere on the map was there any mention of Iraq. Instead, the bold letters read "ANCIENT MESAPOTAMIAN ART."
Sain was not pleased. The year was 2003, and America and its allies had just entered their first week of "shock and awe," littering Iraq with some of the most powerful conventional bombs known to man. But the assembled art historians would be limiting their discussions to artifacts of time past that night, before the nation of Iraq even existed. Sain believes this is a prime example of academic aloofness.
"That map looked like it was laying out bombing runs. I wanted to run up to the map and slap a big 'IRAQ' sticker on it," recalls Sain, sitting in the executive director's office at Montalvo Arts Center four years later. "Everyone was robbed of an opportunity for meaningful discussion that night."
Sain is determined not to have that happen under his leadership again. The way he sees it, the mind-set of that night represents an antiquated approach to managing an art institution. A new, more dynamic framework would move beyond simply producing an object of beauty to engaging the viewer in a discussion surrounding the real-world situation that that object or play or movie refers to.
With the "Iraq: Reframe" series of exhibits coming to Saratoga's Montalvo Arts Center (and other San Jose venues) over the next six months, Sain hopes to present a "test case" for this new framework, which is also heavily focused on integrating regional partners, including the Arab American Cultural Society of Silicon Valley. The project is curated by Rijin Sahakian.
The series begins Oct. 13 with a performance at MACLA by conscious Iraqi hip-hop artist the Narcicyst and runs the gauntlet of artistic genres. In keeping with the theme of engaging audience members in discussion, the series will also include numerous lectures on art, politics and culture in Iraq.
The art pieces accompanying the lectures attempt to nudge viewers used to associating Iraq with daily body counts, oil futures and a messy political situation to instead relate to the day-to-day experiences of the average Iraqi.
Conflict Zones
There are few Iraqi artists more interested in conveying this experience than Wafaa Bilal, an Iraqi refugee who willingly spent May of this year inside a Chicago art center with a paintball gun pointed at him. The gun was remotely operated, and anyone with an Internet connection was able to aim and shoot patriotic yellow paintballs "at an Iraqi."
That internationally recognized installation drew attention to the disconnect between helpless Iraqis having their houses riddled with bullet holes and emotionally disconnected news viewers who see the war experience a bit too much like a video game.
For "Iraq: Reframe," Bilal has constructed a pre-modern Iraqi house on Montalvo's front lawn, mimicking the one he was forced to build in a Saudi Arabian refugee camp after his public expressions decrying the invasion of Kuwait got him run out of Iraq. The house is made from a simple mixture of clay, sand, rocks and water. This style of home building had been phased out with Iraqi modernization, but years of war and sanctions brought it back, making the house a symbol of Iraq's deteriorating physical and political infrastructure.
In the exhibit, Bilal explores the disconnect between comfort zones, which are enjoyed by the American public, and conflict zones, which are wreaking havoc on the psychological well-being of Iraqis and coalition soldiers. But Bilal is not attempting to lay a guilt trip on anyone. He is more interested in what happens when these two worlds meet.
"What I'm trying to do here is to bring the comfort zone and the conflict zone together," says Bilal. "I thought that [by bringing] the two worlds together I could bring whatever exists in that reality of Iraq into Saratoga."
To drive his point home, Bilal was even planning on destroying the house in a fiery explosion on opening night, but after hesitant mutterings from some in the Montalvo management he has shifted gears and will allow people to vote on whether or not to blow the house up in March, the fifth anniversary of the U.S. invasion.
"Sometimes we think about the Iraqi losses," says Bilal. "But people have not faced that reality of all the losses that exist in a conflict zone. The fact is that people in Iraq have not even had time to process these losses, because they're so imbedded in the conflict zone and are in survival mode. This is true for the American soldiers, too. How to stay alive the next day is your only question. But when the dust settles and they drop their guard, the sense of loss rushes in."
Legacy Lost
Iraqi civilians and coalition troops are not the only victims of the Iraq quagmire, however. The rich legacy of artistic production within Iraq is being dismantled as academics are threatened with death or kidnapping and famous artworks are looted or destroyed.
This troubling pattern will be a central focus of the "Iraq: Reframe" lecture series with Dr. Nada Shabout, an expert in Iraqi art history visiting Montalvo twice during the series, and a March visit by Matthew Bogdanos, the American colonel charged with investigating the 2003 looting of the National Museum of Iraq.
During the bombing and looting of the museum, all paper archives went up in flames, paintings were stolen and then sold on the street corner, frames were used for firewood and sculptures were smashed.
"We're talking about a collection that is somewhere between 7,000 and 8,000 works, between paintings, sculpture, statues, photography, prints and so on," explains Dr. Shabout.
While artists were able to buy some of the works back, and a portion of the collection was later found in the basement, there are still more than 5,000 art pieces predicted missing or destroyed. The importance of these works cannot be stressed enough, says Shabout. No less than the heritage of the cradle of civilization, as well as unique representations of more modern Iraqi artists, who blended Islamic, European, and traditional Mesopotamian themes together in their paintings and sculptures, is at stake.
"In the modern age, Baghdad has been a very important center for the continuance of civilization, but it was also the capital and hub of Mesopotamian culture and civilization for centuries before," explains Shabout, an assistant professor of art history at the University of North Texas. "Think of it, in 1,000 years people will want to have access to our collective human heritage. If you think of the national gallery in Washington, D.C., or MoMA in New York being destroyed, what would be the loss of our heritage?"
In an effort to continue this heritage, Shabout will be presenting paintings, sculptures and prints from the post–World War II Iraqi Pioneers movement, starting Nov. 3 at Montalvo's Project Space.
Yet another loss to Iraq involves the multiple freedoms once afforded to women, who are now being increasingly trapped in their own homes as hard-line Islamist groups fill the power vacuum created by the coalition invasion. U.K. photojournalist Eugenie Dolberg, in an effort to resuscitate the voices of these Iraqi women, started handing out cameras to untrained Iraqi women from all social and religious classes.
"Every single woman has this amazing story. It's like the whole history of Iraq emerged through these common threads of every story," says Dolberg, whose "Open Shutters Iraq" exhibit will be on display Nov. 9–Jan. 2 at the San Jose Institute of Contemporary Art.
"Something awful would happen at every point," Dolberg explains, "whether through the sanctions or the war, in this very personal way. I hope that the medium of photography can create a civilian dialogue and refresh people who can understand that there are real people living in Iraq. It can become so dehumanized in the media."
Other events to look out for in the series include a lecture by Dr. Sashi Tharoor, a former U.N. Undersecretary-General, and a presentation of short films made by Iraqi film students.
Related events include a panel discussion on THE LANDSCAPE OF WAR, with Rebecca Solnit, Antonia Juhasz, Salam Hassan, Travo Paglen and Kenneth Helphand, on Nov. 11, 3–5pm, at the San Jose Institute of Contemporary Art, and a pannel on CREATING OPEN SHUTTERS IRAQ, Nov. 10, 3–5pm, at SJICA. For a complete listing of 'Iraqi: Reframe' events, exhibits and a forum for continuing discussion visit www.montalvoarts.org.
Send a letter to the editor about this story.