10.03.07
home | metro silicon valley index | silicon valley restaurants | review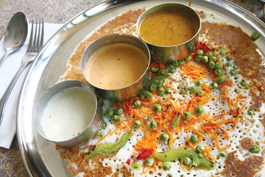 Photograph by Felipe Buitrago
NOT YOUR EVERYDAY UTHAPPAM: Three sauces complement the special vegetarian uthappam.
Tech Trek
Tirupathi Bhimas is Cisco Systems' South Indian secret
By Stett Holbrook
TIRUPATHI BHIMAS is not the Hindi word for "Cisco's cafeteria," but you'd be excused for thinking so. You hear a lot about the great food at Google's cafeteria, but nothing about the food served at Cisco Systems, that other Silicon Valley tech titan. At Cisco's Milpitas campus, all the engineers and techy types go to lunch at this South Indian restaurant. Push your way into the crowded, sparsely decorated dining room and everyone, it seems, has a Cisco ID badge dangling from their neck or belt.
At lunch, you'll have to wait a little while to be seated. After you give the host your name you'll get a plastic blue buzzer that will go off when your table is ready. It's a fancy feature for a not-so-fancy restaurant, but it helps keeps the crowds moving. And Tirupathi Bhimas is worth the wait.
The restaurant specializes in vegetarian food from South India, particularly that of Andra Pradesh, a spicy and aromatic cuisine that has been influenced by the Middle East ever since the time when the capital city of Hyderabad was a Muslim-ruled enclave. Many of the pilaf, kebab, kormas and yogurt dishes trace their origins back to this period in the 16th and 17th centuries. Cardamom, curry leaves, chile peppers, cinnamon, mustard seeds, peanuts and coconut milk are also common ingredients in the food of Andra Pradesh.
The restaurant does serve some North Indian dishes and even a few "Indo-Chinese" items like vegetarian chop suey and gobi "manjurian," but I and most of my 100 or so Cisco friends came for the South Indian food.
South India is known for its great pancakelike breads, particularly dosa and uthappam, and Tirupathi Bhimas excels at both. Dosas are long, thin crepes made with rice flour. Uthappams are bigger and thinner pancakes made with rice and lentil flour griddled up with various vegetables mixed into the batter or served on top like a pizza.
The special vegetarian uthappam ($7) is a lacy pancake as big as a steering wheel that's filled with a spicy mushroom and onion mixture and folded up. A spicy coconut sauce, a rich peanut sauce and a peppery lentil sauce are served with it for your dipping pleasure.
The dosa is smaller and thicker and has a tang like sourdough bread. The Andra kara dosa ($7) looks like pizza, minus the cheese. The crepe is cooked with peas, bell peppers, red onions and mushrooms. It is served with same trio of sauces as the uthappam.
For a real culinary tour of Andra Pradesh, go for the Andra spicy thali ($8.95), a combination plate that arrives on a silver platter with a mound of a rice in the middle and 10 or so little dishes in little silver bowls around it. There's sambar (a spicy, brothy soup), a curry dish, pickles, porial (a cauliflower stew with dried chiles and mustard seeds) and kurma, a creamy, coconut milk and vegetable stew. A crispy papadum and a dosa are served on the side.
Although it is listed as a starter, rava kitchadi ($4) is more of a main dish. It looks like polenta, but is actually made with little couscouslike grains of semolina flour (more Middle Eastern influence?) that has been cooked with vegetables and spices into a filling, rich dish. It's another spicy one, too.
Pongal vada ($5) is another starter better filed under the main dish category. Halfway between a risotto and rice pudding, the rice stew is flecked with black peppercorns, black mustard seeds, curry leaves and cashews, an intriguing if filling dish.
Under the "rice bowl" category, the homey bisibele bhath ($5.50) is a hearty rice and lentil stew loaded with carrots and green beans that packs a sneaky heat. The black mustard seed– and cardamom-laced vegetable biryani ($6) is good, too.
As far as beverages at Indian restaurants go, mango lassi gets all the attention, but Tirupathi Bhimas has several great alternatives. Badam milk is my new favorite ($2). It's a sweet but not too sweet milk-based drink spiked with cardamom powder. Rose milk ($2) is a creamy rosewater-flavored drink that's as pink as Pepto Bismol and just as soothing but tastes a lot better. Masala paal ($2.50) is something of a drinkable dessert. The thick milk is simmered with saffron, sugar, cardamom, ground pistachio and other spices. The saffron turns it a beautiful yellow. It's served in a tall, narrow metal cup that sits on top of a wider saucerlike cup. What you do is pour the drink from the tall cup into the wider one. Otherwise it's too hot to hold. All these beverages are rich and creamy and help cool your mouth after eating spicy food.
Not only is Tirupathi Bhimas the real deal, it's a real deal, too. On one visit, four entrees, one starter, one dessert and two drinks came to $39 before tip. In addition to its value, a meal at Tirupathi Bhimas is quite filling. All those dosas and uthappams have a tendency to expand in your stomach. You don't need a Cisco badge to eat here, but you will need a big appetite.
---
Tirupathi Bhimas
Address: 1208 S. Abel St., Milpitas.
Phone: 408.945.1010.
Hours: 11:30am–2pm and 6–10pm Tue–Thu, 11:30am–2:30pm and 6–10pm Fri and Sat and 11:30am–2:30pm and 6–9:30pm Sun.
Ambience: AMBIANCE
Service: SERVICE
Cuisine: Vegetarian Indian.
Price Range: $5.50–$9.
Send a letter to the editor about this story.