10.03.07
home | metro silicon valley index | music & nightlife | band review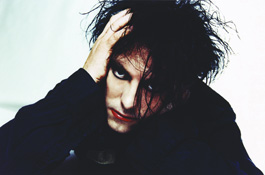 ETERNAL HEADACHE OF THE DRUNKEN MIND: The Cure's Robert Smith nurses a nasty one.
Word Smith
Whether his band likes it or not, the Cure's Robert Smith is still a perfectionist.
By Gelu Sulugiuc
AT 48 YEARS OLD, the Cure's Robert Smith says he's not too old to be wearing eyeliner and lipstick and play three-hour gigs all over the world. "My makeup is pretty '80s, isn't it?" he says with a chuckle. "My appearance is preposterous anyway, so it doesn't matter how old I am. It puzzles me why such a big deal is made about it. It's part of the ritual of going onstage and performing. It doesn't come that naturally to me even though I've done it for years."
Drinking heavily before performing also used to be part of Smith's ritual, but he cut down considerably in recent years.
"I always knew when we were playing stadiums that I was too drunk to be good, but it didn't seem to matter that much to people," he says. "I am keenly aware of how old I am, and I've always maintained that there's something reasonably charming about seeing a 17-year-old fall over after one beer too many and very far from charming seeing a 47-year-old keel over after one beer too many."
When guitarist Perry Bamonte and keyboardist Roger O'Donnell left the Cure in 2005, perhaps the biggest surprise was that they lasted that long. It had been 10 years since the last lineup change in a band notorious for a volatility its leader admits may spring from his own unwillingness to compromise.
"I'm always the driving force of the band, and if everyone's happy with what I want to do it's a happy band, if they're not it's not," says Smith, the Cure's singer, guitarist and main creative force. "I find it ridiculous to do something I don't want to do, so it leaves everyone only one option, to leave. It's very hard to leave a successful group. Sometimes it takes a little cajoling and a little nod to make people realize they're not happy in what they're doing and holding everyone else back."
With founding member and brother-in-law Porl Thompson back on guitars after 13 years, Smith set out to make the Cure's 14th studio album. "Porl's brought back a sense of urgency, we've got a rock edge again," says Smith. "There's no need (for keyboards) when you've got someone like Porl playing guitar. He can pretty much create any sounds you want."
The problem now is that Smith himself is not happy with what he's doing. He wrote 33 new songs, aiming toward a record in the vein of his 1987 masterpiece Kiss Me Kiss Me Kiss Me, which melded radically different styles and moods. But he is constantly trying to improve the songs, postponing the album's release twice so far. Still without a title, it is now tentatively scheduled for April or May next year.
"As usual, I'm holding it up because I can't get the words how I want them," Smith says. "I find myself stopping short and thinking I've done this before better, so it's hard to find subject matter that really matters to me, things that I really want to sing. I just don't want to make a record because we're in a group. That flies in the face of what I've always wanted the Cure to be. It frustrates the others a lot I think, but there's not much anyone can do about it. The last four Cure albums have really stalled on my lyric writing. I think it's worthwhile because they end up better than they otherwise would have been. I never worry about writer's block, I figure if I don't have anything to write about I shouldn't be writing."
To finish the double album, the Cure canceled almost all dates on its U.S. tour this fall—one of the few exceptions being its Bay Area Download Festival appearance. The other shows have been rescheduled for May and June of next year.
By then, the new album should be on store shelves. Smith is producing it himself, recording the band with minimal overdubs in an attempt to capture the vibrancy and brink-of-disaster excitement of a demo tape. "It kind of teeters on the edge; everyone's concentrating and trying hard to get it right," he says. The band members spent one day per song, playing until they got the right take. Then Smith wrote words to fit the recording, an approach he hadn't used since Pornography in 1982.
"It has more color, more style," he says. "There are no overdubs. Some songs have what one might call mistakes in them, but they sound great and that pushed me to this idea of not trying to refine everything all the time. It's incredibly varied at the moment. Everyone has contributed so there are some very different styles. I like the idea of it being more in the style of the Kiss Me album with different things happening. But the art of that is to get it to all hang together, which is quite difficult as well."
Smith credits his friends and fans with keeping him from his retirement dream of growing a beard and writing film soundtracks. But as his ambition pushes him to constantly refine his new album and improve his live show, he finds himself thinking about his legacy.
"I'm genuinely surprised at the people's reaction when we play shows, it's hard to ignore it," he says. "It's gratifying to know that people still want the Cure to exist. The best thing about playing live is that we're an old band playing to a young audience. As long as I still enjoy it I should keep doing it. I find it slightly upsetting to see seriously old people performing contemporary music. I haven't quite reached that stage, but I'm aware that time is moving on. Once I won't be able to sing for three hours and also mentally wanting to do it, that's when I'll stop. I don't want the Cure to fizzle out doing 45-minute shows of greatest hits. It would be an awful way to end the legacy of the Cure."
THE CURE performs on Saturday (Oct. 6) at the DOWNLOAD FESTIVAL, also featuring A.F.I., KINGS OF LEON, BLACK REBEL MOTORCYCLE CLUB, SHE WANTS REVENGE, METRIC, THE BLACK ANGEL, 65 DAYS OF STATIC, VAU DE VIRE SOCIETY and more, at 2pm at Shoreline Amphitheatre, 1 Amphitheatre Pkwy., Mountain View. Tickets are $29.50–$75. (408.998.TIXS)
Send a letter to the editor about this story.