October 4-10, 2006
home | metro silicon valley index | movies | current reviews | review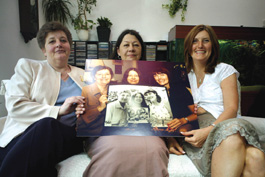 Aging Process: Jackie, Sue and Lynn contemplate their former selves in Michael Apted's '49 Up,' the latest installment in his documentary series.
Apted's 'Up' Runneth Over
Documentary '49 Up' avoids reality-TV trappings, gets close to some human truths
By Jeffrey M. Anderson
IT IS TIME once again for the latest in Michael Apted's Up series, a documentary project that began in 1964 with a group of 7-year-olds from all across England. Every seven years, Apted, now 65, revisits his subjects and records how the passing time has affected them. As with the other films, the new 49 Up includes footage from all previous entries so that we can see how the interviewees have changed. (Unfortunately, the new footage is shot on splotchy digital video.)
Over the series, many of the interviewees have moved, quit jobs, married and divorced and had children. But in the seven years since 42 Up (released here in 2000), the tidal wave of change has slowed. Most couples that were married in the last film are still married, though many now enjoy grandchildren. Additionally, Apted's subjects have become savvier about the overall effect of the film. Some of them confess feeling uncomfortable watching the films and rebuke Apted about his interviewing techniques. One subject, John (a barrister), compares the series to a bad reality-TV show but confesses that his minor fame has helped him in his business affairs.
Despite all this, the Up participants still lead relatively normal lives, some successful, some less so. Nick, who became a scientist, was forced to give up a lifetime of studies when it became apparent that his energy-storage system didn't work. His participation in the movie did not affect this event one jot. So what makes the film different from terrible reality TV? For one thing, the series has integrity. American reality TV is almost always based on some kind of competition or, less often, on pure spectacle. None of the Up subjects have been kicked off the island, nor have they eaten scorpions or used their heads for bowling balls.
No, the most fascinating thing is to watch the aging process—and to watch how the thought process ages. Even at 7 years old, each participant believes they know the definitive answer to each question, that their wisdom has peaked, and this follows throughout each period of their lives. But very rarely do their certainties actually lead back to reality. Every seven years, the subjects have adapted to everything that's happened to them, no matter how terrible. And even in the new film, if someone has anything pessimistic to say, it will most likely be forgotten or proven wrong seven years from now, in 56 Up. It is a real testament to just how fluid and undefined our lives really are.
Ultimately, the point of 49 Up shouldn't be "Child is father to the man," but rather John Lennon's lyric "Life is what happens while you're busy making other plans." Which brings us to the movie's most fascinating character, Neil. In various entries, Neil has been homeless, on the verge of insanity and, then, suddenly, a small-time politician. Without giving anything away, Neil has once again performed a 180-degree turn and—through the story of a butterfly—provides some of the film's most lasting wisdom.

49 Up (Unrated; 135 min.), a documentary by Michael Apted, opens Oct. 6 at Camera 12 in San Jose.
Send a letter to the editor about this story.