October 4-10, 2006
home | metro silicon valley index | music & nightlife | preview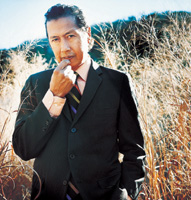 I'll be your mirror: Alejandro Escovedo returns with his best album, 'The Boxing Mirror.'
Kicking Glass
Five reasons Alejandro Escovedo is one of alt-country's best songwriters
By Steve Palopoli
YOU COULD SAY that with his new record—his best yet—Alejandro Escovedo has finally arrived. Except that he's been here for years, waiting for rock & roll to catch up.
And it has. Suddenly, there's nothing cooler for punk bands than to have a country alter-ego; former San Francisco punker Escovedo was combining hardcore and roots back in 1981 when he formed Rank and File with the former members of the Dils. Meanwhile, bands like Spoon have delivered on the pop promise of Escovedo's glam-grit, while the success of the Decemberists demonstrates that his hard-edged symphonics are now in style (for best results, compare their "We Both Go Down Together" with his "Dear Head on the Wall").
And with albums this year like Calexico's Garden Ruin, there's even hope that alt-country might be catching up to him, too. Which would be nice, since it's the genre he helped invent.
What's either charming or nuts is that Escovedo himself isn't keeping score. Not that he doesn't ever notice parallels in the rock zeitgeist.
"Sometimes," he admits by phone from the road. But in the next breath, he modestly asserts that these younger bands have just discovered the same music that influenced his own songwriting.
"It's all about having the best record collection," he says.
He's more occupied with his return to touring and his famously fiery performances, after almost losing his battle with Hep C in 2003. And he agrees that his new album, The Boxing Mirror (Back Porch), is "absolutely" his best, though he's quick to credit producer John Cale.
"Everything we've ever tried to do came together on this record," he says, "because John engineered the whole thing. I just loved working with John, he was perfect to produce it."
Now, it's true that former Velvet Underground icon Cale is one of the best producers in the history of rock music (with the classic first albums of Patti Smith, the Stooges and the Modern Lovers also to his credit), but it's the songs that make The Boxing Mirror great—from the beauty of "The Ladder" to the beast that is "Break This Time." Escovedo's songs have always been among the best in any genre; for the uninitiated, here's a sampling from his solo career:
1. 'Five Hearts Breaking' from Gravity (1992) A pitch-perfect balance of ache and restraint, Escovedo punctuates its guitar-and-lap-steel glow with an unexpected percussive riff—this was an early landmark in his long line of stand-out songs whose only predictable feature is their unpredictability. "It has that Pandora's Box theme," he says, "but it's all about having faith."
2. 'The End' from Thirteen Years (1994) The free-fall feeling of hurt that hasn't yet peaked. "It's about a relationship that's in limbo, that has overtones of ending, but the couple hasn't given up yet," says Escovedo. "Like the guillotine's about to drop, and you're still checking out the sky."
3. 'Put You Down' from With These Hands (1996) A tightly wound, dirty pretty thing of a love song, this is Escovedo's most intoxicating mash-up of rock, symphonic aggression and the kitchen sink. The lyrics about sin, pleasure, bloody bones and phone calls from mom would take a graduate course to dissect, preferably one taught by the Pixies' Black Francis. "It's about clinging, it's about possession—maybe obsession," he says. "Some people thought it was about drugs. Some people thought it was about my music, that I didn't want to put it down. It's more about excess. It's all about self-inflicted pain."
4. 'Wave' from A Man Under the Influence (2001) Another atmospheric triumph, one that in the space of just five minutes manages to dig deep into the immigrant experience. "My father's life inspired it. It was a very important song to me, because I really wanted to tell my dad's story," says Escovedo.
5. 'Arizona' from The Boxing Mirror (2006) "'Arizona' is about what happened to me in Phoenix when I got ill, when my body broke down," he says. "We weren't sure about the future. It's all about what I felt—obviously my life was going to have to change."
Alejandro Escovedo plays at the Hardly Strictly Bluegrass festival in Golden Gate Park in San Francisco on Sunday, Oct. 8. Admission to the two-day festival is free; see www.strictlybluegrass.com for schedule.
Send a letter to the editor about this story.