October 4-10, 2006
home | metro silicon valley index | silicon valley restaurants | review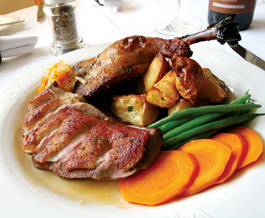 Photograph by Felipe Buitrago
Flux Time: With his confident creations, chef Scott Murdock has made a smooth transition at Cafe Marcella.
Dazed and Reviewed
There's been a whirlwind of change at Cafe Marcella, but chef Scott Murdock is holding down the fort
By Stett Holbrook
I ATE AT Cafe Marcella about a year ago after receiving a glowing recommendation. It had been nine years since Metro reviewed the restaurant, and I thought it was time for an update. But my meal was unimpressive. The food was solidly mediocre, a generic plate of pasta, a ho-hum steak and other dishes too unremarkable to recall. I decided to pass on a review and to seek out some place more compelling instead.
But a few weeks ago I heard from a reader who urged me to give Cafe Marcella a try. New chef Paul Miller was making some great food, the reader said, and I ought to check it out. I respected the reader's judgment, so I went back to give the place another look. This time my meal was more memorable and I decided to review the restaurant.
After enjoying a solid dinner there last week, I called the next day to talk to Miller. But he wasn't there—and he wasn't coming back. It turns out that about a week before I dined at Cafe Marcella, Miller had walked off the job in a huff after just six months on the job. Sous-chef Scott Murdock was now in charge.
That's the restaurant business for you.
Like Steve Young suddenly being thrown into the shoes left by Joe Montana, Murdock has picked up where Miller left off and stepped into his new role as kitchen quarterback with aplomb. He appears to have smoothed over what could have been a difficult transition for owners Alain and Martine Staebler.
Cafe Marcella's menu is a mix of French and Italian fare, with a few creative flourishes to keep things interesting. The restaurant doesn't break any new ground, but offers a solid menu of robust, well-prepared food made with high-quality ingredients and served in large portions. A good wine list, an intimate dining room and smooth, professional service add to the restaurant's enduring appeal.
On both the lunch and dinner menu, many of Cafe Marcella's appetizers, such as the risotto ($12-$14) and the lobster ravioli ($14), could stand in for entrees because of their size and heartiness. But I'd be happy to eat just a plate of the steamed clams marinara ($14). Sweet, fresh-steamed clams are stacked on a creamy mound of whipped potatoes and bathed in a great tomato sauce with a wonderfully garlicky depth.
From the lunch menu, I liked the rustic leg of lamb sandwich with braised onions ($11), but was puzzled by the grilled lemon-grass scallop salad ($16). The plump scallops were skewered with lemon grass and perfectly cooked, but I couldn't detect any lemon-grass flavor. Absent too were the sliced oranges that were supposed to go with the dish. But the surprise substitution of roasted chioggia beets was good.
From the dinner specials menu, the pesto-enlivened Proven┴al vegetable soup ($6) and foie gras ($21) won me over. The chunky soup of onion, squash, celery, beans and other vegetables was warming and nourishing, while the foie gras, paired with sliced pears, candied pecans, dried fruit and toast points, offered deliciously over-the-top fatty richness.
The kitchen does a good job with fish. The grilled mahi mahi ($27), with shamrock green basil mashed potatoes and green beans and carrots in a light orange beurre blanc sauce, is a simple, uncluttered dish. The bright flavors of the tomato-basil beurre blanc atop the pan-roasted blue nose sea bass ($27) were just enough to offset the rich fish without overpowering it.
One of the dishes that embodies Cafe Marcella's crowd-pleasing style is the double-cut pork chop ($25), a War and Peace-thick slab with two stout bones protruding from the meat. Roasting a chop this big while keeping it moist is no easy trick (brining helps), but the meat was deliciously caramelized; crusty outside and juicy throughout. The cognac-fig sauce paired with it was a great match, too.
The one dish that bombed was the wild mushroom linguine ($18). Made with a mix of piopino, crimini and hen of the woods mushrooms in a Madeira cream sauce, the dish had a cloying, almost sour bite that lingered long after my last forkful.
Desserts are the weakest part of the menu. The ones I tried (crème brûlée, bread pudding, chocolate cake) were OK but boring. The world does not need more crème brûlée. It's good, but we've had enough already. How about something new?
But Cafe Marcella remains on solid ground. After being enticed to sample the cooking of a talented new chef, it was Murdock's food that won me over. Irony, it turns out, is a dish best served hot.
---
Cafe Marcella
Address: 368 Village Ln., Los Gatos
Phone: 408.354.8006
Hours: Tues-Sat 11:30am-2:30pm, Tues-Thurs and Sun 5:30pm-9:30pm and Fri-Sat 5:30pm-10:30pm.
Cuisine: French and Italian
Price Range: $16-$36.
Send a letter to the editor about this story.