October 4-10, 2006
home | metro silicon valley index | the arts | visual arts | preview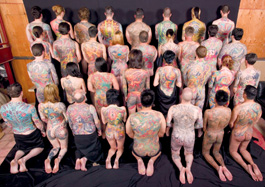 Photograph by Max Dolberg
Kneel and Deliver: Every body tells a story at Anno Domini's tattoo show, 'Full Coverage.'
Body of Work
The skin artists from New Shool Tattoo Studios use bodies like canvases at Anno Domini's 'Full Coverage' show
By Gary Singh
AS TATTOO artist Don Ed Hardy once wrote, "A tattoo is an affirmation: you put it on yourself with the knowledge that this body is yours to have and enjoy while you're here. You have fun with it, and nobody else can control (supposedly) what you do with it. That's why tattooing is such a big thing in prison: it's an expression of freedom."
Years in the making, "Full Coverage" opens this weekend at Anno Domini, giving a colorful twist to the phrase "body of work." Eight tattoo artists have been toiling away at the backsides of 33 different folks to create this exhibit, which coincides with the San Jose Convention of Tattoo Arts, Oct. 20-22 at Parkside Hall.
The folks at New Skool Tattoo Studios on San Carlos Street got together with a few other tattoo artists to operate as the New Skool Collective, or NSKolectiv. Their first body of work, "Suits to Fit," was completed about five years back and exhibited in San Jose and Osaka, Japan. In fact, these local dudes actually have a sister tattoo shop in Osaka, Three Tides Tattoo, which will take part in the convention.
If you never imagined tattoo arts putting San Jose on the map, think again. Not only do we have sister-city relationships, like San Jose and Okayama, we've got sister-tattoo-parlor affiliations. Since ritualistic self-decoration goes back for millennia in both the East and West, I can't think of a more ritualistic way to promote San Jose in the country of Japan.
"Full Coverage" is the next logical step in NSKolectiv's collaborative process. A glossy book is being finished as you read this, and the folks who got their backs fully tattooed, a.k.a. the Collectors, will arrive in time for the convention. The show documenting the whole shebang opens this weekend, and the Collectors will exhibit themselves at Anno Domini on Oct. 19.
On New Skool's website, the tattoo artists state that the motivation behind it all was "rapid collaborative progression and peer review." They should have said "rabid" instead of "rapid," as this is a wonderfully fanatical project. If you have any doubts about the legitimacy of using one's body as a canvas, "Full Coverage" will shatter those doubts. The whole shootin' match is downright majestic to look at.
Takahiro Kitamura, a.k.a. Horitaka, who sets up shop at San Jose's State of Grace Tattoo Parlor, is part of the collective and spent years writing for Tattoo Life Magazine. Born in Japan but raised in California, Horitaka also penned Tattooing From Japan to the West: Horitaka Interviews Contemporary Artists and a few other books.
He is one of the few people in the West to have studied with Horiyoshi III, a legendary Japanese master. And he's right here in San Jose, plugging the traditional Japanese style of tattooing, which is completely intertwined with Japanese culture, history and Bushido, the samurai code of the warrior. It's not about just making pictures. "We aren't just drawing or doodling," Kitamura told Pain Magazine in last month's issue. "We're trying to create something with meaning. It's not just the images, it's the story that goes with them."
NSKolectiv's Adrian Lee explains it this way: "The culture of tattooing is perhaps as important as the actual craft itself. It is closely linked with the elemental composition of human systems, and a conduit through which ritual is practiced relating to a corresponding and evolving culture."
All in all, exhibits of tattooed folks have an odd relationship to arts institutions, primarily in the sense that we're all human and will eventually keel over and die some day. Tattooed bodies are all about the here and the now, and the artists' creations are not permanent after the client passes away. So what's the next step? We should be able to buy someone's tattooed skin after he or she is gone. Just like a piece of static artwork. Why not? That should the next show at Anno Domini. Dead tattooed flesh.
Full Coverage by NSKolectiv runs Oct. 6-28 at Anno Domini, 366 S. First St., San Jose, with a reception Friday, Oct. 6, 8pm till late. (408.271.5155)
Send a letter to the editor about this story.