October 4-10, 2006
home | metro silicon valley index | music & nightlife | preview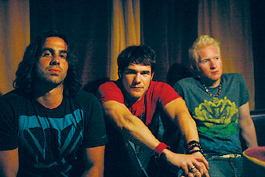 Wide Awake: They called their album 'Insomnia,' but nobody is sleeping on the Miggs these days.
Like a Rock
The Miggs of San Francisco serve up consistent pop rock
By David Sason
FOR A FEW YEARS NOW, the Miggs have been riding their "next big Bay Area thing" buzz all around the country. The San Francisco quartet return this week to play for the Rock N' Roll 1/2 Marathon in San Jose, where they opened for Shawn Mullins at Music in the Park back in July. It certainly would have been more fitting, albeit strange, if Miggs had played a month later alongside the reunited Soul Asylum. Lead singer and songwriter Don Miggs sounds eerily like Soul Asylum's quivering, raspy-voiced Dave Pirner and bears a striking resemblance to the frontman of another Minneapolis band the Miggs mirror musically, the legendary Replacements. The vocal likeness is so uncanny, in fact, that concertgoers taking in the sun with eyes closed at Cesar Chavez Park may have believed they were enjoying a free ticket to the longest Soul Asylum set ever.
Not that this similarity is a bad thing. Some of the most interesting rock bands have worn their influences on their sleeve, finding a new identity in existing musical forms, and the Miggs' MySpace page proudly lists the Replacements as an influence, along with a plethora of others, from Dr. Dre to Billy Squier.
The Miggs' accessible brand of pop-rock love songs has certainly struck a chord with fans, earning them a coast-to-coast fan base since their 2002 self-released debut, Anyway. Sales of the CD at their shows totaled more than 10,000 copies, still an astounding feat for a band with no record label and no distribution. The record sounds like the most polished, arena-ready $2,000 ever spent, with melodies abounding with ease, starting with the impassioned opener, "Lie to You." "I won't ever lie to you, but that don't mean I'll always tell the truth," sings Miggs, with pitch-perfect backing vocals from the rest of the band. "I've done some awful things before," he sings, the first of many personal, candy-coated lyrical stabs that the band's become known for, and which earned it some comparisons to Elvis Costello (another influence listed on the profile).
Their latest album, 2005's Insomnia, was released on boutique label 33rd Street Records, a Tower Records subsidiary that gives artists distribution and a higher profit per unit sold than traditional labels, both without impeding artistic license. The set brings us more of the same deceptively simple pop fare but in a slightly less rocking manner, courtesy of producer Gavin MacKillop, who has produced and engineered like-sounding bands such as Toad the Wet Sprocket and the Goo Goo Dolls. A highlight on Insomnia is "It's Over," an at-once plaintive yet bouncy breakup song that hears Miggs singing, "There's nothing sad here, it's just over, that's all." This sad lyrics/happy instruments dynamic serves the band well, prompting both singalongs at their acclaimed live shows and empathetic nodding amid iPods. While the band's anthemic tunes recall '90s-era groups like the Gin Blossoms (whose song "Mrs. Rita" is unavoidably brought to mind, considering the title of "St. Rita" off Insomnia), they should not be dismissed as such. Although not earth-shattering on the musical landscape, the Miggs are certainly skilled and take their work seriously enough to earn fans the hard way, through tireless touring. And let's face it—it takes talent to write catchy melody after catchy melody.
With airplay on KFOG and an appearance on MTV2's On the Rise under their belt—not to mention the ever-important background music spot on The O.C.—their current, never-ending tour could find them graduating to larger venues very soon. Solid songs, indie credibility and a strong work ethic? If this combination doesn't warrant success, I don't know what does.
The Miggs will play a two-hour set starting Sunday at 11am this Sunday at the Rock N' Roll Marathon at the Plaza de Cesar Chavez in San Jose. For more information, visit www.rnrsj.com or www.miggsband.com.
Send a letter to the editor about this story.