October 4-10, 2006
home | metro silicon valley index | the arts | books | review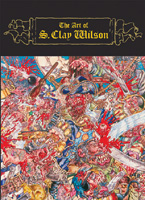 The Art of S. Clay Wilson
(Ten Speed Press; 154 pages; $35 cloth)

To hell with Capt. Jack Sparrow, when are they going to make a movie about Cap'n Pissgums and his Pervert Pirates? S. Clay Wilson's cartoon fantasias of mayhem were, R. Crumb admits in the intro to this collection, what gave Crumb the strength to go as scary and vile as he could in the 1960s. In today's grisly pop culture, there's a certain nostalgia value in revisiting Wilson's imaginary battle royals—demons vs. bikers vs. diesel dykes vs. pirates. This volume compiles later work by Wilson, and it's still replete with graphic threat, guaranteed to disgust all the right people. The artist—whose favorite landscape is a bloody bar fight—crowds his panels with goblinlike humans, waving every weapon they can get their hands on; severed cocks fly across the room, as oversized as the genitals in Japanese shunga prints. Some of the art was composed at the behest of fans or for advertising posters. The cover of Barbarian Women no. 2 here would probably have been done for the comix published by Bob Sidebottom's late lamented downtown San Jose comic-book shop. Even the least of the prints throb with diabolical energy and are ornamented by the kind of hardboiled captions you wish could be turned into movie dialogue: "Get that thing out of 'er face, ya hunk of flotsam, or I'll pull out my chib and slice it up like so much salami."
Review by Richard von Busack
Send a letter to the editor about this story.