October 4-10, 2006
home | metro silicon valley index | movies | current reviews | review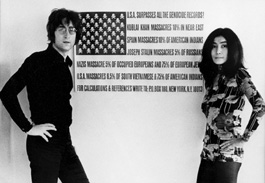 Photograph by Barrie Wentzell
Enemies of the state? John Lennon and Yoko Ono inspired the government's scrutiny in the 1970s.
Beatlemania
'The U.S. vs. John Lennon': O, no! Not another political documentary!
By Richard von Busack
EVERY FISCALLY SUCCESSFUL documentary has a hero and a villain in it; few films are as clear about stating their lineup as the title of The U.S. vs. John Lennon does. The VH1-produced documentary rehashes the well-documented political harassment of one of the Nixon regime's most mild-mannered and peace-loving critics. In the early 1970s, at the urging of Sen. Strom Thurmond, the INS challenged Lennon's resident alien claim, after Lennon had moved to New York City. What made Lennon more worthy of attention than any other entertainer who went into left-wing politics in the 1960s? Besides his fame, he was an English foreigner, with an insignificant drug conviction on his record.
For 4½ years, the ex-Beatle had to fight deportation. The documentary implies that this harassment prevented Lennon from playing a protest concert outside the Republican convention in 1972. (Lennon may have been disinclined for other reasons, though.) Leftist rags like the Wall Street Journal (March 28, 1973) editorialized in favor of Lennon being left alone. Still, the FBI accused him of what used to be called "fellow traveling." Lennon rubbed shoulders with the likes of Black Panther Bobby Seale and activists Abbie Hoffman and Jerry Rubin. And his participation in a "Free John Sinclair" rally helped reopen the case of the Michigan political activist, who was given an incredible 10-year sentence for distributing two marijuana cigarettes.
To throw Lennon's danger to the world in the most stark light, directors David Leaf and John Scheinfeld discovered one of the few people who still defends the hunting of the rock star: it's ol' rat-breath himself, G. Gordon Liddy. This documentary would have it that Lennon was not just a beloved and talented musician, but a freedom fighter persecuted by the full force of the U.S. government. And that's laying it on thick. Lennon's music is sometimes taken out of context here, just as it is in a television ad campaign: "Cold Turkey"—pretty clearly about heroin—is used to back up news of one of the deportation notices Lennon received.
Lennon and Yoko Ono's staying-in-bed-for-peace campaign, marveled over by witnesses like comedian Tommy Smothers, is a strategy that only works if you have room service. It's uneasy logic to call "Revolution" a radical statement, on the grounds that it contradicted the angriest politics of the time. And "Imagine no possessions" is useless advice to the poor, who don't have to use their imaginations. As an entertainer and raconteur, Lennon survives The U.S. vs. John Lennon. He and the appealing Yoko Ono shine in the interviews collected here, one with the late Mike Douglas. Repeated from a documentary called Imagine, we see the scene of Lennon dueling with New York Times reporter Gloria Emerson. Emerson, author of an excellent book on the Vietnam war, Winners and Losers, patronizes the hell out of Lennon for the naiveté of his gestures, such as spending his money posting up billboards reading "War is over if you want it." The U.S. vs. John Lennon raises a lot of questions. One of them is the matter of whether it's better to be a thinking person or a feeling person in times of struggle.

The U.S. vs. John Lennon (PG-13; 96 min.), a documentary by David Leaf and John Scheinfeld, plays valleywide.
Send a letter to the editor about this story.