October 4-10, 2006
home | metro silicon valley index | columns | silicon veggie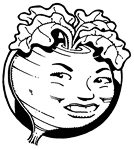 Silicon Veggie
A Tale of Two Vegan Restaurants
By Elisa Camahort
IN NEXT month's column, you will learn about my first 30 days as a vegan, and I will share many of the wonderful suggestions I am continuing to get from Silicon Veggie readers on how to successfully shift from my current vegetarian state to a vegan state. I have restaurants, and recipes, and cookbooks, and even visualizations to share on behalf of numerous readers who shared their thoughts—even when they weren't always vegans themselves!
But this month I'm going to share something I learned about my own taste in vegan foods from recent visits to two reader-recommended vegan restaurants. The restaurants are doors apart in Berkeley, so they're admittedly not so convenient for South Bay folks. But the point is not to review the restaurants themselves, but to talk about their style of vegan food preparation.
First I visited Cha-Ya, a vegan Japanese place. Then I visited Café Gratitude, a vegan, raw foods restaurant.
Since I am a fan of the fake meat dishes one finds at vegan Chinese places, I thought I would prefer Café Gratitude, because they use vegan ingredients and raw food "cooking" techniques to emulate "regular" food. Instead I discovered that my favorite foods at Café Gratitude were ones that were already vegan—foods like their hummus and a truly wonderful Thai coconut soup. When, on the other hand, an attempt was made to make vegan versions of traditionally nonvegan dishes, such as pâté or coconut "cream" pie, I was put off by the difference in texture and taste.
Meanwhile over at Cha-Ya all the vegetables are left looking like vegetables. By not trying to emulate any kind of meat, whether via wheat gluten, soybean or mushroom, Cha-Ya challenged itself to be creative and to offer more variety of natural ingredients and fresh produce.
I was impressed to be anywhere where two vegan restaurants were within a few steps of one another. I'm discovering there are more such restaurants in our neck of the woods than I realized, so, thanks to my readers, next month I will tell you about multiple vegan options in downtown San Jose, and up the peninsula. Most of them are based on Asian cuisines. You can find vegan in just about every town from Palo Alto to San Jose, which is a comforting discovery. Stay tuned for more vegan action next month!
Send a letter to the editor about this story.