10.07.09
home | metro silicon valley index | columns | silicon alleys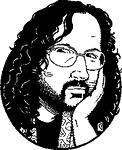 Silicon Alleys
What's in a Name?
By Gary Singh
HAD THIS WEEK'S COLUMN occupied the inside back cover of Mad magazine, the author would have opened with "Here we go again with another ridiculous review of an Arcadia Publishing photo book." Or something along those lines. Instead, he will state upfront that yet one more San Jose–related book from Arcadia's Images of America series, simply titled, Silicon Valley, has been unleashed upon the public.
If you're out of the loop, Arcadia publishes those now-ubiquitous black-and-white photo books, usually about 120–130 pages, chronicling the stories and histories of certain local niches. Go to any bookstore, and you'll see a shelf or display of them somewhere in the store. Locally speaking, we've already seen titles like San Jose's Historic Downtown and Railroads of Los Gatos and Early Cupertino, as well as volumes covering complete cities like Campbell, Milpitas, Alviso, Morgan Hill, La Honda, Pleasanton, San Carlos, ad infinitum. Often they are hyperfocused, like Cemeteries of Santa Clara.
Well, we have another one, called Silicon Valley, by Sam Shueh. It basically comes across like unused outtakes from about 10 previous Arcadia books, all spliced together in the studio somewhere. The description on the back of the book describes Santa Clara Valley as if the two names are interchangeable.
So, before we go any further, we must declare a stipulation or a pet peeve, if you will: "Silicon Valley" is not necessarily one and the same thing as "Santa Clara Valley." The two terms shouldn't be automatically interchangeable. Just because an event took place in Cupertino doesn't mean the event happened in "Silicon Valley." Just because photos of Alum Rock Park, Japantown, the Great Mall or 19th-century farmworkers in Evergreen contain subjects geographically located in Santa Clara County doesn't automatically mean they have anything whatsoever to do with the history of "Silicon Valley."
Much of the book is like this, and Shueh arbitrarily divides it into six regional chapters, one of which is called "East Gateway of Silicon Valley," featuring photos of Eastridge, the Great Mall and Milpitas plus historic shots of Chinese farmworkers, circa 1920, and a corner market on East Capitol Road, circa 1954. Another chapter, titled "Silicon Valley Events," includes a 1951 photo of a football match between Santa Clara University and UCLA, another of a dinner at Villa Montalvo in 1925 and also a picture of the New Almaden Cinnabars baseball team in 1897.
The photos that actually do relate to the high-tech universe highlight all the basics, from the Hewlett-Packard garage to NASA, from Amdahl to Google. But while the chosen photos are interesting, they are so strewn about the six arbitrary chapters that the whole thing results in a confused presentation. If the book is "Silicon Valley," then why do we need to see a photo of an indistinguishable roadside motel in Sunnyvale, with no apparent connection?
When I envision a book for Arcadia on Silicon Valley, I want to see at least one image from Douglas Engelbart's famous 1968 presentation, where he first demonstrated that one could edit text on a screen, make hypertext links and mix graphics with text. I want to see Bill Atkinson sitting in an office designing the pull-down menu. I want to see a photo of where Steve Jobs took his first hit of LSD. I want to see Steve Wozniak hacking people's television signals. I want the Timex Sinclair, the Altair or the Commodore 64 music chip. And where's Spacewar, the first video game?
But I guess all that material just wouldn't intrigue the readers of Arcadia books. Instead we have to see a picture of the first time Caltrain went to the Garlic Festival in 1985.
I guess one good thing about Shueh's version of Silicon Valley, though, is that it proves anybody anywhere can put together one of these books. For example, if you can locate a few hundred photographs somehow related to the corner of Branham and Pearl, you can probably write an Arcadia book and call it "San Jose's North Oakridge Neighborhood."
Contact Gary Singh or send a letter to the editor about this story.