10.07.09
home | metro silicon valley index | music & nightlife | band review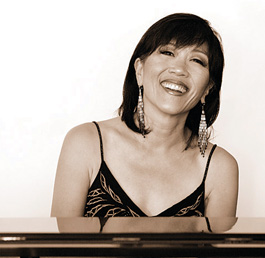 RAVEL REVELATIONS: Pianist Gwendolyn Mok plays Ravel selections for Symphony Silicon Valley.
Classical Moves
By Michael S. Gant
FOR its opening concert of the fall season, Symphony Silicon Valley brings back favorite son George Cleve to conduct. He will team up with pianist Gwendolyn Mok for two works by Ravel: Mother Goose Suite and Piano Concerto in G. This is a potent pairing—both are Ravel specialists. Also scheduled is Symphony no. 4 by Brahms, who seems to be everywhere this weekend. Saturday (Oct. 10) at 8pm, Sunday (Oct. 11) at 2:30pm; California Theatre, 345 S. First St., San Jose; $39–$75; 408.286.2600.
The Nova Vista Symphony looks east to discover some "Russian Soul and Spirit." Music director Ann Krinitsky leads a program that features Khachaturian's Masquerade Suite, Kabalevsky's Violin Concerto (with soloist Craig Reiss) and Shostakovich's Symphony no. 9. Saturday (Oct. 10) at 8pm; West Valley College, Allendale at Fruitvale, Saratoga; $10–$20; 408.624.1492.
All of 19, Haochen Zhang was the youngest entrant in the 2009 Van Cliburn International Piano Competition, but that didn't slow him down—he was a first prize winner. The Steinway Society of the Bay Area offers audiences a chance to hear what those judges hear, as Zhang comes to San Jose to perform some Chopin preludes, Liszt's Spanish Rhapsody and Brahms' Variations and Fugue on a Theme by Handel. Sunday (Oct. 11) at 7pm; McAfee Center, 20300 Herriman Ave., Saratoga; $25–$45; 408.286.2600, ext. 23.
For its dip into the South Bay, the San Francisco Symphony presents Yefim Bronfman performing Brahms' Piano Concerto no. 2. The program also features Haydn's Symphony no. 94 (Surprise) and Brett Dean's Carlo. David Robertson is the guest conductor. Thursday (Oct. 8) at 8pm at Flint Center, 21250 Stevens Creek Blvd., Cupertino; $15–$71; 415.864.6000.
For its 21st season, the California Pops Orchestra presents "Heroes, Heartthrobs and High Adventure," with selections from nearly a century of famous movie soundtracks. Saturday (Oct. 10) at 7:30pm; Spangenberg Theater, 780 Arastradero Road, Palo Alto; also Sunday (Oct. 11) at 3pm; Venture Christian Church, 16845 Hicks Road, Los Gatos; $10–$30; 650.856.8432.
For a program titled "American Rhythms," the SJSU Symphony Orchestra welcomes the Premier Saxophone Quartet to help with some works by Gershwin, Copland and Laura Karpman. Friday (Oct. 9) at 7:30pm; Music Concert Hall, SJSU; $8/$15; 408.924.4673.
The Choral Project previews its new season with a gala evening of food, raffle prizes and music. This is a chance to hear two new vocal ensembles: Menharmonics and Amaranth. Saturday (Oct. 10) at 8pm and Sunday (Oct. 11) at 7pm; Le Petit Trianon, 72 N. Fifth St., San Jose; $40; 408.279.0161.
[email protected] helps out with the grand opening of the Center for Performing Arts at Menlo-Atherton High School. Wu Han (piano), David Finckel (cello) and Anthony McGill (clarinet) will perform pieces by Beethoven and Brahms. Saturday (Oct. 11) at 4pm; Menlo-Atherton High School, 555 Middlefield Road, Atherton; $25-$60; 650.331.0202.
Send a letter to the editor about this story.