10.07.09
home | metro silicon valley index | silicon valley restaurants | review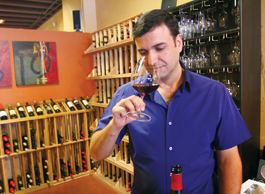 Photograph by Felipe Buitrago
SNIFF TEST: Co-owner and chef Omar Kannout tries an organic pinot.
Zatar Satori
Campbell's Cyprus Bistro & Café offers some unusual forays into eastern Mediterranean cooking
By Stett Holbrook
THE HITS keep coming to Campbell. The "little downtown that could" continues to produce good food. The latest entrant is Cyprus Bistro & Café. The 2-month-old restaurant occupies the space formerly held by Good Tastes wine bar and serves an eastern-leaning Mediterranean menu in a handsome, dusky dining room.
It takes its name from the island of Cyprus, a place that co-owner Margaret Kannout says is an amalgam of flavors from Greece, Lebanon, Turkey, Syria and northern Egypt. Kannout's co-owner and husband, Omar Kannout, is from Syria. He does the cooking in the restaurant's tiny kitchen.
Most of the menu reads like standard Mediterranean stuff: kebabs, baba ghanouj, dolmas, tabouli. But Cyprus offers a few lesser-known dishes, such as grilled haloumi cheese, mohammara (a slightly sweet purée of walnuts, red bell peppers and pomegranate molasses that gives hummus some serious competition in the vegetable-dip department) and eclectic and delicious soups.
But for me, what sets the place apart is the attention to detail and superior ingredients. All the produce is organically grown and prepared with a light touch that allows the simple but big flavors to come through. The heavy, dark-wood tables are set with thick linen napkins, tiny votive candles and expensive-looking glassware. Throw in some original art and low lighting, and you've got a stylish, urbane dining room.
The restaurant is also unique in that its 30-plus item wine list is made up of all organic, vegan (no egg whites or milk protein, common ingredients in wine) or biodynamic wines, and they're all available by the glass. All the wine is available for off-site sale, too. You're not going to find a wine list like this anywhere in Silicon Valley. The floor staff is quick and generous with its tasting samples, so feel free to explore the varied selections.
Meals start with a zatar: a plate of dried sumac, thyme, sesame seeds and salt into which the waiters drizzle some fruity olive oil, served with fresh-baked flat bread. It's a nice touch that adds a bit of drama to the dining experience.
It was the soup that made me sit up and take notice that this wasn't just another kebab and hummus shop. On one lunch visit, the soup of the day ($6) was a chilled creamy zucchini. The soup could have used a shot of salt or lemon juice, but it was still refreshing on a hot day. On another day, the soup du jour was a carrot-cardamom. I expected a sweetish soup, but the sweetness of the carrot was balanced with the aromatic spice of the cardamom and the peppery kick of the olive oil swirled on top. One of my dining companions professed an aversion to carrot soup because of its cloying proclivities, but I had trouble prying his hands off this one.
For lunch, head straight for the grilled lamb sandwich ($12) with supremely tender lamb. Made with lavash layered with creamy hummus, tomatoes, lettuce, tsatsiki and a light and bright artichoke salad on the side, it's an immensely satisfying sandwich. By comparison, the grilled chicken and red bell pepper sandwich ($10) with pesto was just OK but didn't reach the same heights. Better is the grilled vegetable and goat cheese sandwich on flat bread ($9). The inclusion of pickled and grilled vegetables really made this sandwich pop. The goat cheese is quite rich, and the counterbalance of the vinegary vegetables made for interesting mouthfuls.
The arugula-watermelon ($8) salad reads more California than Mediterranean, but it's a winner. The sweet, juicy chunks of melon are great when sharing a fork with a Kalamata olive and a hunk of feta—it's sweet, salty and creamy all at once.
On the short dinner menu, the grilled lamb fillet ($24) stands out, as does the kefta kebab ($21), ground beef and lamb seasoned with shallots and spices and grilled until it's caramelized and crisp outside and juicy and aromatic inside.
For dessert, there's the house-made baklava ($5), which is good and less sweet than the typical version, but a better way to go is the almond-date mousse ($7) and the golden raisin, honey and pistachio-topped ricotta cheese ($6). The mousse is semifrozen, so it tastes like an airy ice cream. The ricotta dessert was my favorite of the three. So often desserts weigh me down, but this one was refreshing and light, a great ending for a fine new restaurant.
---
Cyprus Bistro & Café
Address: 379 E. Campbell Ave., Campbell.
Phone: 408.370.3400.
Hours: Lunch 11:30am–2:30pm Thu–Sat and dinner nightly 5:30–10pm.
Cuisine: Mediterranean.
Price Range: Lunch $8–$12 and dinner $18–$25.
Send a letter to the editor about this story.