10.07.09
home | metro silicon valley index | movies | current reviews | film review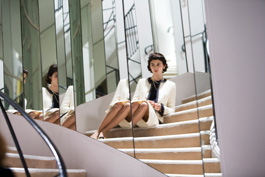 Chantal Thomine-Desmazures, Courtesy of Sony Pictures Classics
MIRROR, MIRROR: Coco Chanel (Audrey Tautou) changed the fashion world with her radical designs.
The Dresser
'Coco Before Chanel' explores the early life of the woman who liberated women's bodies
By Richard von Busack
ONE OF THE most ardent pro-corset passages in literature is "The Old Chevalier," a Gothic tale by Isak Dinesen. An old man remembers the 1870s: "In those days a woman's body was a secret which her clothes did their utmost to keep. ... They made it their object to transform the body they encircled, and to create ... a mystery which it was a divine privilege to solve." The Chevalier remembers undressing a lady, "her waist still delicately marked by the stays, as with a girdle of rose petals." You can see why some of today's hipsters have gone back to the laces and whalebone. But "privilege" is a loaded word, never to be used lightly. In the well-done biopic Coco Before Chanel, Audrey Tautou plays the designer as modernist; a woman who assumed male privilege by assuming the simplicity and directness of their clothes. Chanel is, in this account, almost a transvestite in the pre–World War I period, taking shears to modify men's trousers, shirts and coats.
Coco Before Chanel begins in an orphanage, where Gabrielle Chanel, the designer to be, is raised by immaculate nuns with pterodactyl-size bonnets. There's a rather vast leap to adulthood; Gabrielle and her sister, Adrienne (Marie Gillain), have new careers as saloon singers. Coco calculates her way into bed with a wealthy roué named Etienne Balsan (Benoît Poelvoorde). Boldly, she pursues him back to his chateau and steps quickly into the life of a kept woman. Director Anne Fontaine reminds us that Coco Before Chanel is a movie from the country that gave us The Rules of the Game. What could have been a dull bird-in-the-gilded-cage story turns urbane, with the ever-changing flow of power between Coco and the slightly wizened but sporty decadent. Balsan is the kind of self-amused playboy who nicknames his prized coal-black racehorse "Snow White." He's a dedicated wastrel but an elegant one.
Two of Balsan's friends prove influential: one is a stage-farce actress named Emilienne (Emmanuelle Devos), who enjoys the little straw hats Coco keeps whipping up. The other is a British businessman nicknamed "Boy" (Alessandro Nivola); soon, Coco is mad about the Boy, even though there's something of the cad, etc. Sanely, the film makes no enormous claims for Chanel's legacy. The end titles call it an empire, but Tautou—last seen, cigarette on lip, in a cage of mirrors, surrounded by models wearing her gowns—makes it look like mostly hard work. Tautou is perhaps a little old for the role, but she's unusually sharp. Without speeches, Coco Before Chanel gives all due importance to the little black dress, here seen making its debut at the Deauville Casino. One feels a little sad at the French Impressionist beach scene on its way out, witnessing women in full gowns and parasols. Meringues on their heads, Coco mutters, seeing the gauze-laden cartwheel hats, which look like pastries. The change Chanel wrought was indubitably feminist, bringing physical and sexual freedom and the death of the corset. "You're so easy to undress," Boy tells Coco. The downside: the ideal of ascetic leanness as the essence of glamour today, a different kind of tyranny.

COCO BEFORE CHANEL (PG-13; 105 min.), directed by Anne Fontaine, written by Camille and Anne Fontaine, photographed by Chistophe Beaucame and starring Audrey Tautou, opens Oct. 9 at Los Gatos Cinema, Aquarius in Palo Alto and CinéArts Santana Row. For movie alerts, follow us at twitter.com/metronewspaper.
Send a letter to the editor about this story.