10.07.09
home | metro silicon valley index | the arts | stage | review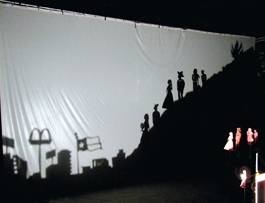 Photograph by John Gerbetz
PROJECTIONS: The tales in 'Ghosts of the River' are displayed in silhouettes.
Shadow People
'Ghosts of the River' penetrates the darkness of lives in peril along the border
By Emily Grube
FOR ITS CURRENT offering, Teatro Visión, along with ShadowLight Productions, presents the second collaboration between director Larry Reed and playwright Octavio Solis since the critically acclaimed 7 Visions. In the world-premiere play Ghosts of the River, shadows are used to tell five vignettes about people from both sides of the Rio Grande River: from a family trying to cross during the Mexican Revolution to a special agent patrolling the shore in the present day.
These ghost stories are projected onto a large screen by way of silhouetted puppets, actors and sets. Throughout the bilingual play, there is a stream of translations coasting above the stage. The combination of people in oversize masks and puppets provides a sense of awe. A wide range of inventive sizes, angles and settings makes the play almost cinematic. Some of the tales are also augmented with live music.
The stories intertwine humor with the sorrowful subject matter through allusions and visuals. In one story, a man searching a train for illegals is depicted with a gorilla head and chupacabra arms. This technique harks back to the humor in political theater with exaggerated representations of the oppressors. Unfortunately, there were moments when the presentation was not really bilingual. Throughout one of the stories, for instance, the narrator speaks a combination of Spanish and English; however, the translation at the top remains in Spanish for most of his tale.
The use of Walang Kulit–style masks was brilliant for the spectacle and the message of the play. By being able to see the enlarged facial expressions of the shadow characters, the audience is able to achieve an emotional connection. They are not just faceless creatures, as important as a wisp of smoke and just as tangible; they are people, with lives and dreams and skin as delicate as yours or mine. Symbolically, if it is possible to sympathize and feel for a shadow, how can we deny the same for the person who has cast it? It is a haunting thought that while these characters are just dark masses on the screen, they may be all that is left of their flesh-and-blood inspirations. Ghosts of the River is a visual carnival that is worth seeing for the inspired spectacle alone.
GHOSTS OF THE RIVER, a ShadowLight and Teatro Visión production, plays Thursday–Saturday at 8pm, Sunday at 2pm through Oct. 11 at the Mexican Heritage Plaza, 1700 Alum Rock Ave., San Jose. Tickets are $12–$24. (408.272.9926).
Send a letter to the editor about this story.