10.07.09
home | metro silicon valley index | columns | style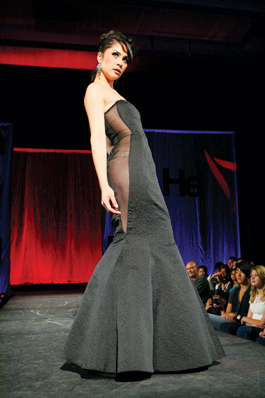 007 GOES GIRLY: Hector Manuel's James Bond-inspired fashion line, Acta Non Verba,on the Atomic Fashion Show runway last week
Helium Rising
By Jessica Fromm
AIMING TO LIFT fashion from the shadows of Silicon Valley, Helium magazine presented its first official Atomic Fashion Show last week, highlighting the work of up-and-coming Bay Area designers, visual artists and dancers. Helium is a new San Jose State University–based fashion magazine founded by a group of SJSU arts and media students last spring. At the Sept. 30 event, nine edgy, innovative clothing collections by SWATI Couture, Breezy Excursion, Yannssan and Kent Denim, among others, were sent down the San Jose State Student Union Ballroom catwalk.
The Yuppie Joints Dance Crew performed for the packed, cheering crowd between collections, popping-and-locking their way around the runway. Having expanded to a network of 40 visual artists, photographers, stylists, writers and fashion designers, Helium has plans to put Silicon Valley on the map as a fashion focal point.
"We want San Jose to become a fashion epicenter by merging emerging makeup artists and models and fashion photographers who haven't been exposed before. We want to pull them together and give them a purpose," says Matthew Mountford, the magazine's editor-in-chief.
One of the local fashion designers featured in the show was San Jose's Hector Manuel. Specializing in body-conscious cocktail and evening gowns, he describes his line Acta Non Verba as "James Bond meets Sophia Loren."
"Instead of a James Bond, I wanted [to base my collection on] a 'Jamie Bond,' who has the sleek, fast-paced life of a classy and versatile woman," says Manuel in an interview with Helium (sjhelium.com). "This really is a tribute to women. I wanted to create something that makes a woman feel so comfortable, that makes her feel powerful."
Helium's first official issue is planned for publication in early December 2009, scheduled to coincide with its Dec. 4 "Elemental Fashion Show," which the magazine's founders hope will blow last week's inaugural event out of the water.
"Nobody thinks of San Jose as being any sort of fashion-forward-type city. What Helium is trying to do, especially with this fashion show, is to show people that there is fashion here, there are designers here," says Jasmine Duarte, Helium's fashion director. "These are all people right in your back yard. These are all people in your own neighborhood who are designers just trying to make a name for themselves."
Send a letter to the editor about this story.