10.07.09
home | metro silicon valley index | columns | Wine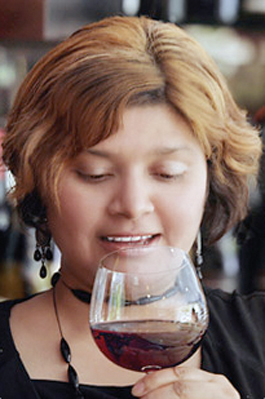 Ask the Sommelier
By Stett Holbrook
SAKOON RESTAURANT brings contemporary Indian food to Mountain View. Part of the restaurant's modern appeal is its wine list. Sommelier Nirupama Srivastava has created a wine list to match the big, bright and spicy flavors of chef Sachin Chopra's cooking.
METRO: Why did you decide to pursue a career in wine?
NIRUPAMA SRIVASTAVA: After completing hotel school in India working and on and off for many different restaurants and hotels in India and abroad, I finally managed to take classes with Kevin Zraly at Windows on the World 1999, One World Trade Centre, New York. That is where I was truly inspired by this wine guru. The whole place had a magical effect on me, and I decided to pursue wine—the "exotic beverage" dating back to 3,000 B.C.E. It's an amazing byproduct of nature's bounty and man's creativity. All of this was enough reason for me to read and explore and learn more and more.
What makes the wine list at Sakoon special?
My wine list pays tribute to many women winemakers. I also focus on eco-friendly wines. I've created many choices by offering flights and half-bottles, "pick of the month" and seasonal specials. Sakoon donates $1 from every bottle sold to the Breast Cancer Campaign.
What wine or wines are you passionate about right now?
More than the wine, I'm intrigued by varietals indigenous to different regions, wines that express their region or "terroir." For example, cabernet franc from the Loire Valley, malbec from Cahors or a grüner veltliner from Austria. Exciting and intriguing. These are some wines that I love: Les Clos Sacres, Savennieres; Nicolas Joly; Anjour-Saumur, Loire; Torrontes, Crios de Susana Balbo, Argentina; Gazur, Telmo Rodriguez; Ribera del Duero, Spain; Chinon, Marc Brediff.
What are some of the best wine values now?
These days good wines are getting pretty expensive, but there are still some steal deals from the Southern Hemisphere (Chile, Argentina and Australia) as well as white wines from Spain and Italy. Sometimes locally produced, less important varietals used for blending can also offer great value.
What is your go-to wine for every day, casual drinking?
Life is too short to drink bad wine, and of course the company one has makes all the difference. I enjoy merlot, New World especially as they are easy drinking, fruit forward and fun. Many are available at great prices, too, like Cuvee Alexander, Casa Lapostolle, Franciscan and Chateau St. Michelle.
Sakoon
357 Castro St., Mountain View. 650.965.2000.      

Send a letter to the editor about this story.