10.10.07
home | the papers | metro silicon valley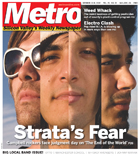 Play Time
Let there be local rock

Squirt Gun Solution
Getting pesticides out of the county's plant-control arsenal can be a thorny business. One South Bay inventor says he has the answer.
The Fly: 10.10.07
Runaway Gonzo, Civic Minded & Get On With It!.

Silicon Alleys
Tag, We're It
Technology news
Always Away
Events
The Hearty Boys
Sporting Events
The Rock 'N' Roll Half Marathon
Kids Events
Beauty and the Beast

Jewish Film Festival
San Jose director Todd S. Yellin's 'Brother's Shadow' kicks off the 16th San Jose Jewish Film Festival.
Film Review: 'The Darjeeling Limited'
Nothing is more important than an American's angst
Film Review: 'Lust, Caution'
Ang Lee rethinks Hitchcock's 'Notorious' in tale of wartime romance.
Film Review: 'The Assassination of Jesse James'
Don't shoot Jesse, shoot the narrator.
Film Review: 'My Kid Could Paint That'
The enigma of kid artist Marla Olmstead.
Film Review: 'Michael Clayton'
Clooney's personal best?

MORE MOVIE REVIEWS

MOVIE TIMES

Radio On
M.I.A. blows up musical history to make way for its future.
Mystery Man:
Henry Mollicone leads the Winchester Orchestra this weekend.
This Week's Music Picks
Akron/Family, The Radiators & Q-Tip

MORE MUSIC AND NIGHTLIFE

MUSIC AND CLUBS LISTINGS

MUSIC AND NIGHTLIFE CALENDAR PICKS

Lobster Shack, Baby
The Old Port Lobster Shack is a little lobster place where we can get together.
Live Feed
Don't Always Believe The Food Hype.
5 Things to Love
Good Steakhouses

BOOK A RESTAURANT RESERVATION

FIND A RESTAURANT REVIEW

Visual Arts:
Willie Cole recycles the familiar into visions of surprise at Cantor Arts Center show
Stage Review: 'Sugar Witch'
Northside Theatre gets ready for Halloween.
Stage Review: 'Golda's Balcony'
TheatreWorks explores the life of Gold Meir in a one-woman play.
Book Review:
Making It New: The Art and Style of Sara and Gerald Murphy.
Book Review:
Fright

Letters to the Editor
October 10-16, 2007.