10.10.07
home | metro silicon valley index | movies | current reviews | film review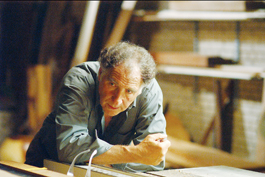 FAMILY MAN: Judd Hirsch plays a fallible grandfather trying to hold his family together in 'Brother's Shadow.'
Prodigal Son
San Jose director Todd S. Yellin's 'Brother's Shadow' kicks off the 16th San Jose Jewish Film Festival
By Richard von Busack
THIRTY-SIX-year-old Jake Groden (Scott Cohen, "Max" from Gilmore Girls) is cleaning fish at an Alaska cannery when something snaps. He commits a minor act of sabotage, violating his parole. The cops have mercy and tell Jake he can return to New York and finish out his parole there.
Jake's brother, Michael, has intervened, saying he'll sponsor him. But when Jake arrives back in Brooklyn, Michael has dropped dead, and the rest of the family is sitting shiva for him. Brother's Shadow, a prodigal-son story written and directed by San Jose's Todd S. Yellin, opens the 16th San Jose Jewish Film Festival, which includes 18 films playing over the next five weeks at the Camera 12 in San Jose.
The biggest name in Yellin's film, Judd Hirsch, is arriving for a champagne reception at the Fairmont Hotel and will be interviewed onstage by KRON's Jan Wahl on Oct. 14 at 5:30pm, after the 3pm screening (the film repeats on Oct. 17 at 7:30pm.) Hirsch has been the übermensch ever since his Oscar-nominated turn in Ordinary People. Despite his long-lived stint in Taxi, he'll always be remembered as one of cinema's most menschy shrinks.
In Brother's Shadow, Hirsch plays Leo, the fallible patriarch of the family. Hirsch is too sensible an actor to give up on the elements of his most famous role. The script describes Leo as a terror when he was younger. Yet here Hirsch is the sensible one, the one who keeps trying to draw his raveled family back to tradition and to prayer.
His daughter-in-law, Emily (Susan Floyd), and his grandson, Adam (Eliot Korte), are drifting away from the family business: Groden's Custom Furniture. A little beguine begins between the prodigal son and the widowed Emily; Jake discards the booze and starts over. Old World tradition drowns out the New World call of the wild. Jake derides the fancy new power tools in the family's shop and returns to the handmade values that made them a success in the first place. "Electricity made us weak," he claims.
Perhaps someone could hand-crank the projector when they're showing this? Brother's Shadow is meant to rebuke Hollywood machinery by showing the personal craft of an indie movie. Fair enough. If only this would-be rugged film didn't have such a thick layer of Varathane on it.
By too-smoothness, I don't just mean the locations. You can't expect Brooklyn to have the funk it had once upon a time. And I don't just mean just the modern high-tech artiness onscreen: a carpenter blows sawdust off a plank, and it hangs in the air like the nimbus of a Disney pixie. Through a jump-cut montage, we see Jake trying to tough it out as he shores up the business on the telephone. But it's a done deal; an elderly lady describes the dead brother as "Michelangelo with a saw." This is what is called inflation; honest craftsmen don't have to drape themselves in the laurels of the Renaissance.
To wrap this up as Variety would, Brother's Shadow has commercial potential and is technically well built. And the young actor Korte rises above the stock character of the embittered teen.
The documentaries and Israeli films are always the prizes in this festival. I'm looking forward to Sweet Mud, (Nov. 11 at 7:30pm); despite its odd, Calistogan title, it is one of the new Israeli films taking a sharp look at the excesses of the kibbutz age. Sentenced to Marriage (Nov. 11 at 1pm) and Be Fruitful and Multiply (Oct. 28 at 1pm) show how Israel's traditional divorce laws keep some women captive in loveless, sometimes dangerous, marriages. The latter film describes the downside of a culture that urges children on all women.
Six Days (Nov. 4 at 5:30pm) and Souvenirs (Oct. 28 at 5:30pm) examine the military history of Israel. Blues by the Beach (Oct. 21 at 1pm) concerns a cozy Tel Aviv bar that seemed like an oasis in troubled streets until it, too, finally fell victim to terrorists.
Of the rest of the five-week festival, there are some familiar titles. The very popular Three Mothers (Oct. 14 at 7:30pm) has been turning up like regifted fruitcake at various local film festivals. The fine vintage Israeli pop-music soundtrack sells it, as does the '60s-era glamour.
In the other revivals, this year's Black Book (Nov. 14 at 7:30pm) closes the fest. Paul Verhoeven's epic is a purebred cross between his Soldier of Orange and Showgirls, giving us the Netherlands under the Nazis profusely illustrated with really primo topless scenes. The Discovery of Heaven (Nov. 4 at 5pm) is director/star Jeroen Krabbé's lush metaphysical epic. You've heard of Angels in America? This is Angels in Holland.
The biopic Modigliani (Nov. 11 at 5pm), reprised from the '05 fest, stars Andy Garcia as the artist who lived in squalor unique even for his line of work. Garcia is some 15 years older than Modigliani was when he perished from the triple effects of booze, opium and TB. If one doubts director Mick Davis' view of Pablo Picasso as the Al Capone of the Paris Art gang, at least one can't resist the verve with which Omid Djalili impersonates the Spanish Minotaur.
More details to come over the course of the fall; check Metro's film section for additional reviews.

THE SAN JOSE JEWISH FILM FESTIVAL runs Sundays and Wednesdays at Camera 12 in San Jose. Tickets are $8.50–$11. See www.sjjff.org for details; call 800.838.3006 for tickets.
Send a letter to the editor about this story.