10.10.07
home | metro silicon valley index | music & nightlife | band review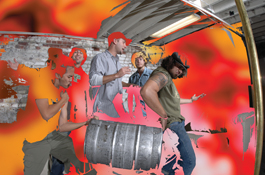 DRINKING SONGS: You don't have to be Irish to enjoy the Whiskey Avengers, but it doesn't hurt.
Big in Japan
Last call with the Whiskey Avengers
By Garrett Wheeler
IT'S CRAZY how young we are and how quickly it's taken off—that's pretty much our story," says Whiskey Avengers co-founder and co-lead singer Stefan Meissner, and the man's got a point. The band formed just 10 months ago, after he and longtime friend Clint Westwood (yes, that's his name) decided to expand a song they had been experimenting with in their hip-hop group, Language Arts Crew.
"We threw a hidden ska track on the end of our album, and people really liked it. The Whiskey Avengers took off from there." Took off indeed—within six months the band was voted Best Local Band Runner-Up in the '06 Metro, a feat that confirmed the Avenger's local popularity and musical capabilities. "Getting that Metro award really got us motivated", Meissner says. "It made me think, 'Maybe we can really be successful and do this for a living."
Inspired by the positive responses garnered by their initial recording, Meissner and Westwood decided to put together a full instrumental lineup, recruiting Insolence drummer Kevin "Guch" Higuchi and saxophonist Paul "Bones" Riccobono. A few weeks later, keyboardist Lee Pardini and percussionist Francisco Graciano joined the group. With solid musicianship across the board, the Whiskey Avengers set out to take the South Bay by storm.
Mixing an eclectic array of musical genres, including ska, punk, folk and even pirate jig (the drunken kind), the Whiskey Avengers have proved there's no limit to what kind of music people enjoy, as long as it carries a good tune. And of course, a little booze never hurt. "We usually play at bars, so we try to get people drunk," says Meissner. "The bartenders always appreciate it." In fact, alcohol has played an integral part in the band since its inception. "We named the band after our favorite drink, and all of our songs are about drinking," Meissner says.
But even mammoth hangovers haven't stopped the Whiskey Avengers from steadily gaining momentum throughout the Bay Area, a task surely as difficult as downing a bottle of cheap scotch. "It's been really tough trying to break into the San Francisco scene. Down south is a lot different; it seems like Southern California really loves us. Every time we play there we get a great response, maybe because the kind of music we play is warmer. But up here, they'll tell you straight up if you're good or not."
The Whiskey Avengers' feel-good sound recalls the third wave ska movement that rose up over a decade ago on the heels of bands like Reel Big Fish and early No Doubt. Rooted in accented off-beats, up-tempo rhythms and vibrant horn sections, ska music reclaimed its lost spark. "A lot of people kind of forgot about the mid-'90s ska thing," says Meissner. "You see a lot of club music and emo stuff nowadays—we like to break away from all that."
It appears that separating themselves from the crowd was a wise move. The band's growing reputation caught the eye of a Japanese record label, which wasted no time in releasing the Whiskey Avengers' debut album, Round One, in stores across Japan. A major tour is also on the agenda. Next week, the band embarks on a month-long stint to Europe, hitting a slew of countries including Germany, England, Belguim and Switzerland.
Though the Whiskey Avengers are riding high on their initial accomplishments, the original hip-hop group that started it all hasn't been forgotten. Formed when Meissner and Westwood were in high school, the Language Arts Crew has seen plenty of success itself and continues to play shows and work in the studio. "Neither band takes precedence. It's kind of like a big music family, the Whiskey Avengers, Language Arts Crew, and Insolence—we're all good friends. There really haven't been any conflicts, and we [Language Arts Crew] are still playing gigs about once a month."
Looking ahead, the Whiskey Avengers are currently putting the finishing touches on their second album, Round Two, while awaiting release of a remastered first album. "The new album should come out sometime in late January or early February," Meissner says, "but right now we're just looking forward to playing a couple more drinking tunes." Bottoms up.
Send a letter to the editor about this story.