10.10.07
home | metro silicon valley index | music & nightlife | band review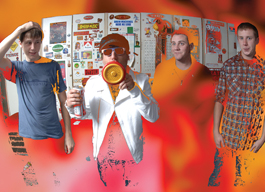 Photograph by Phil Ritti
MANAK PANIC: Everybody wants Johnny Manak to play with them, but he's hangin' with the Depressives in 'Rebound Town.'
Manic Man
Jonny Manak has his hands in everything
By Gary Singh
WHILE he who also throws his weight around at Good Karma Vegan Cafe and sells ads for Zero magazine, Jonny Manak is San Jose's multi-instrumental punk rock hired gun. He has his freakin' hands in everything. Basically, whenever a local punk band has a row with its guitarist, bass player or drummer, Johnny steps up to the plate and fills in. He's been in so many bands that no one can even keep track of them all. He's pounded skins, pulverized bass strings or slung guitars for local legends like the Forgotten, the Odd Numbers, Clay Wheels and the Texas Thieves. And he's one of a small-city-size population of people who've played in a Fang lineup. Oh, and he also gets paid to ride skateboards.
Earlier this year, his main current musical enterprise, Jonny Manak and the Depressives, released a CD titled Rebound Town, a meaty chuck of raw, guitar-shredding, garage skate punk. Imagine if Joan Jett licked all the sweat off the dudes in the MC5 and then spat it into the breakfast beers at Johnny Thunders' house, who subsequently barfed it up onto the floor, and then Captain Sensible mopped it all up with a push broom while naked.That would be Rebound Town.
The entire slab is rooted in Manak's experiences in the downtown San Jose music scene: "I had just gotten out of a five-year relationship and moved into my own place for the first time, and was going through the whole rebound thing and how in downtown San Jose everybody kinda hooks up with everybody's exes, and it's all kinda messy and everyone sleeps with each other and shit. The whole town is on rebound. Everyone's on rebound. ... That's the way it's been for years, even before I was around."
And guess what? He played all the instruments himself, primarily because he just couldn't assemble a working band who would practice continuously. Everybody had to spend time with their girlfriends or their families. Same old story.
Getting jumped by some of the out-of-town thugs who tend to infest downtown at nighttime fueled one particular track, "It Ain't Safe to Be a Skater Again." He points out that in the old days, skaters would get picked on by jocks and it was hard to be a skater. Then Green Day exploded and all the Emo horseshit took over and it was no big deal for everyone to skate around and do stuff. No more. Now it's like the old days, he says in the song: "It ain't safe to be a skater again/It ain't safe to be a punk no more/This reminds me of high school man/ All you thugs are the same."
Like pretty much everyone involved in what's left of the rock scene here already knows—except for the police—Manak says that we need an all-ages club where kids can go see bands and adults can drink alcohol. "We need to have the best of both worlds," he said, "like the Cactus Club used to be. ... Now it's sort of regressed and the kids are just saying, 'Fuck it, let's go play gigs in a video arcade or a church.' ... It's become the kids versus the over-21 people and vice versa. There's no crossover." The gigs that the minors are organizing, by the way, draw lots of people.
Is there hope for it all? Manak thinks so, since there exist thousands of kids all over the valley who want to play in a band in a legitimate venue and have nowhere to go. "Where there's a demand, there's going to be a supply somewhere," he said. "That's just business. Right now there's a supply on every corner. Someone's gonna get something rolling. There's a need for it and it's going to change. I can only look at it positively like it's going to get better."
Send a letter to the editor about this story.