10.10.07
home | metro silicon valley index | music & nightlife | band review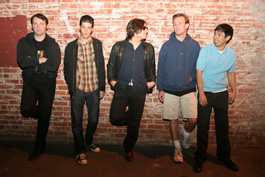 Manchester United: The more you ignore Manchester School, the closer they get.
School of Rock
Manchester School basks in the glory of its 'Best Local Band' award
By Garrett Wheeler
EARLIER this year, bassist Eric Scharer and his band Manchester School received some big news: they had made the Top 20 in Live 105's search for an opening act at the summer's biggest concert, BFD. Bands already booked for the show included rock-giants Interpol, Queens of the Stone Age and Social Distortion. Big Fucking Deal, indeed. Though Manchester School eventually fell short, their proximity to the prize was quite a thrill. "It was awesome," Scharer says. "Even though we didn't get the final spot, it was an honor to make it that far. We were told there were around 200 entries, so to be chosen ahead of most of them was pretty cool."
Scharer, along with drummer Eric Batemen, founded Manchester School in the fall of 2004. Soon after, guitarist Kevin Rollis joined the group and the three began rehearsing songs and working on a demo. "For a year, we just played without vocals. We had some auditions, but nobody seemed to fit," says Scharer.
Patiently, Manchester School played on sans vocalist, convinced it would be worth the wait. Months later, their prayers were answered. "We had an ad posted outside our practice room in downtown San Jose. Rick Alexander was there jamming with another band, and when he saw our flier he ripped it down and called us soon afterward," says Scharer. "We gave him a demo and he took to it immediately. Instantly, we had a singer." With Alexander handling the vocals, along with the addition of rhythm guitarist Gabriel Maciel, the band's sound was complete.
Drawing influences from the '80s post-punk era as well as contemporary alt-rock, Manchester School's melodic tone seemed to swim around catchy hooks and graceful vocal phrases. Well-crafted song structures converged with polished instrumental work, while Alexander's silky smooth voice caressed each note like a mother would her baby.
The band's tight sound and obvious songwriting talent led them to be elected by Metro readers as the Best Local Band of 2007. Though the praise was high, a major difficulty still looms. "It's actually hard to find other bands to play with because we're kind of unique in our genre, especially in San Jose," Scharer says. "There are a bunch of hardcore rock and metal groups, but not much of the upbeat pop-rock we like to play. We've played with bands outside our genre—sometimes it works, sometimes it doesn't."
Despite the lack of soft-core rockers in the area, Manchester School continues to book shows in San Jose as well as the greater Bay Area. A recent gig at the Blank Club found the band receiving a new level of admiration. "That show was so memorable—everything was just right. The crowd was going nuts, we played great—everyone really enjoyed themselves. The Blank Club's been really good to us," Scharer says.
Though the band has seldom struggled to attract crowds locally, their travels north to San Francisco have yielded mixed results. "It's a much bigger pond in the city," says Scharer. "That's one thing that's nice about San Jose—we're a bigger fish here. We've played in San Francisco a few times—getting a response is sort of a crapshoot, but we hope to play there more." To be sure, Manchester School will have to win over San Francisco crowds before they can hope to rise to commercial success, but for now, things are going pretty well.
"I'll be honest, everyone who hears our music seems to either like it or love it—the responses have been really positive," Scharer says. "With each new success our fan base grows, whether it's more adds on Myspace or emails from people telling us how much they like our music, it all helps us get our name out there."
Send a letter to the editor about this story.