10.10.07
home | metro silicon valley index | music & nightlife | band review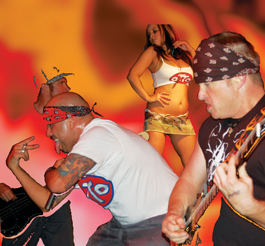 Photograph by Paul Taylor
STAGE RAGE: Otto have eyes that can see if you're listening or not.
Otto Pilot
Otto is revamped and ready to rock
By Ryan Osterbeck
THE MOMENT a band begins to rest on its laurels is the moment when that band—no matter what its following—begins the slow decline into mediocrity. When I caught up with local hard rockers Otto last week, this was a concept that the amp-blowing quartet is wholly embracing.
"We've revamped," explains Otto frontman Tony Cantu. "We're getting back to a more bluesy rock sound; old-school rock with punk roots and without all of the interceding bullshit."
A few random forces have conspired to fuel this change for Otto. Within the past year, singer Cantu and longtime bassist Sean Julian were confronted with the need for a lineup change as they were losing both their drummer and guitarist, so the two started going through the laborious task of auditions.
First they found Jeff Cayton—an absolute giant on the kit, bringing relentless and focused energy that complements Julian's chunky bass lines and Cantu's often menacing vocals. Fully vested in the axiom of Otto, the guys set their sights on a lead ax-man. What they found, however, wasn't just a guitarist, but their new catalyst in studio musician Eric Chaffin.
"Eric and I grew up together in San Diego," says Julia. "We've pretty much been friends since the third grade. In my mind, that friendship is one of the things that planted the seeds for Otto."
Chaffin's a killer six-stringer that brings with him years of studio work in both recording and production. What he brings to Otto is his professional knowledge and, by extension, a much more polished sound.
"Doing hard rock, at first, seemed like a simpler version," says Chaffin whose prior work had mainly been in the world music and lighter alternative genres, "but, now there's a certain freedom."
Not that Otto was in need of a major overhaul. Indeed part of the band's beauty was in its raw and powerful simplicity; a straight-ahead, aggressive sound that hit hard and fast. But to find a larger audience, that power needed to be harnessed, and that's where Chaffin comes in.
"Since Eric joined," the three other band mates agree, "the sound's definitely become more polished." Listening to a retooled copy of an old single, "Dead," Chaffin's influence is readily apparent. Whereas the older version was a souped-up hot rod full of fury, the revamped cut takes the guts of that same rod and gives it a serious tune-up, loads it with chrome, then slaps on a shiny new paint job. A similar effect is running through just about every component of Otto.
Cantu agrees, "I never knew I could sound this good. My [vocal] range has definitely grown. People should open their minds more often."
Another element that is changing the direction of Otto is theatrics. "We're not just a band setting up and playing anymore," they explain. "Now we're putting on a show."
And just what does that "show" entail, you ask?
"We've got videos going," Cantu explains, "girls dancing, enticing the crowds to the stage, flames, chrome ... shit, this is old-school rock & roll, man." When questioned about the addition of dancers to a hard rock band, Cantu immediately shoots back with, "C'mon, that's easy math."
While Otto's sound and stage presence are getting upgrades, there's still the problem that all local bands face: getting their music out there. This problem, at least for Otto, has been eminently solved by the peddlers of that wicked German sauce, Jagermiester.
Jager has a well-known obsession with hard rock and metal. They've sponsored numerous heavyweights in the genres, including Slayer, Killswitch Engage, Slipknot and Mudvayne, along with alt bands Pepper and Slightly Stoopid.
Otto has done the Jagermeister Mini-Tours, where the liquor company touts rock headliners and picks up local bands in the same vein for openers. Getting hit with Jager sponsorship comes with immeasurable bonuses, least of which is free booze. First, there's the exposure. Otto gets a prime spot on Jagermeister tours, which leads to bigger shows at bigger venues and the distinct potential to become headliners. They also get to lay some tracks on Jager music CDs, they get a place on the Music Page of Jagermeister's website and they get the experience of playing with world-renowned talent.
Also, Jager is the major sponsor of Ozzfest, which hits Shoreline every summer.
"It was last summer at Ozzfest," says Cantu, "Sean and I were hanging out in the Jager tent between bands and the [Jagermeister] regional manager passed a bunch of shots around, we all raised our glasses and it was seriously like some 'Welcome to the family' Mafioso shit."
In fact, Otto is anticipating an opening slot on the Cult's upcoming tour. "They haven't set the dates yet," says Cantu, "so nothing's set in stone yet and we're waiting to hear back, but it'll probably happen at the Warfield sometime in December."
In the meantime, Otto is playing the headlining slot for the inaugural midnight happy hour show at the Blank Club this coming Friday—a show where the whole new Otto will be in full-force.
They're also finishing up their first official album, which they're recording with the help of renowned engineer and mixer Chris Manning, who has worked with Metallica, Joe Satriani, Thriving Ivory, Guster and on the multiplatinum album Supernatural by Carlos Santana. Like everything else, Otto's taking this leap in stride.
"Working on the new album," says Cantu, "we've learned that we're better at music than we are at our day jobs. We've been lucky though—most bands implode. With a little maturity under our belt, we're getting tighter every day."
Send a letter to the editor about this story.