10.10.07
home | metro silicon valley index | music & nightlife | band review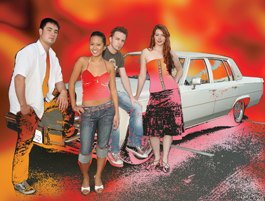 WHEREVER, WHENEVER: The PinUp Productions people can book a show anywere, possibly even on this car. From left to right: Andrew Kutsenda, Lauren Benetua, David Scherbarth, Shannon Gazay
Rolling Rock
Andrew Kutsenda turns roller rinks and arcades into live-music venues
By Claire Taylor
THE San Jose area doesn't have strong, established venues like San Francisco and Oakland—on any given night, there isn't one venue a live-music junky can turn to for a sure high. But for more than two years now, Andrew Kutsenda has been working to change that.
"I'll throw a show anywhere," says Kutsenda, the indefatigable visionary behind PinUp Productions, which often books all-ages shows in unusual venues. "I mean, as long as there's kids there. ... Who cares if it's a roller skating rink or a church or wherever? I'm gonna throw a show on the street if I have to."
The San Jose son has made it his mission to establish and encourage a vibrant all-ages rock scene in the South Bay, getting his start booking concerts for San Jose Skate, a run-down roller skating rink in the Blossom Valley area, in March of 2005. He's since become the general manager at San Jose Skate, taken over complete booking for the rink and expanded his sights to a variety of local venues, dubbing his project PinUp Productions.
"We came in at a time where San Jose was really hurting for all-ages venues," Kutsenda says. Once the Campbell Gaslighter closed in May of 2006, Kutsenda and members with The Cave Productions, also based in San Jose, pretty much had free reign on the all-ages music scene. "There was nowhere else to play," he says, "and by default we started doing shows weekly, and from there started getting a small staff together, started doing shows at Nickel City, and it's just kind of grown since there."
Since its beginnings at San Jose Skate, Kutsenda's team, which includes himself and six employees, has produced more than 250 all-ages shows, and he isn't about to slow down. "Starting in December we're doing four shows a week. I mean, I don't know anyone [locally] that comes close to that," he says.
Still, he sees the need for more established venues to sustain the number of concerts in the area, rather than solely established local bands or bookers. "I think the biggest problem with local venues at this point is that they don't have a very strong in-house draw," Kutsenda says, expressing his frustration in not being able to book many out-of-town bands because they are unknown in the area, thus leaving the local bands to bring the majority of the concertgoers. "I just wish that I had a place that could bring 200 kids regardless. ... So I guess that's my biggest goal, that San Jose becomes a self-sufficient scene."
In that same vein, Kutsenda's latest endeavor is a full-fledged opening of the Nova Hall on North 27th Street in San Jose, which has recently served as host to sporadic concerts. This all-ages venue will also feature a full bar, much like the Cactus Club, which had been a local institution in downtown San Jose and closed in the summer of 2002. He says this new venue will truly cater to all ages and will begin presenting consistent Friday night shows beginning this weekend.
Despite his desire to continue growing PinUp Productions and strengthening the local scene, Kutsenda isn't one to make predictions about the future. "I laugh at people who think that they have a plan, because when I was in high school I was playing semiprofessional baseball, didn't talk to bands, " he says. "I thought I was going to play ball for the next 20 years. ... That didn't happen. And now I'm the general manager of a roller skating rink and I book bands? Didn't see that one coming. ... I could sit here and say I'll do live music forever, live music till I die, then in five years be an investment banker. I just believe in taking opportunities that are thrown my way."
While his full-time job at San Jose Skate, full-time schooling at a local community college and full-time management with PinUp Productions have left him with little time for a social life ("I don't remember the last time I had a weekend off," he says), Kutsenda admits he's happy with how he currently spends his time. "It's the best job in the world. You write stuff down for a living—that's cool. I listen to music for a living. You can't beat it," he says. "It was either that or being, like, a space pirate, and all of the space pirate positions were taken at the time, so I went with music."
PinUp Productions shows this week
Dan D. With ATM and J-Walk, Perpetual Infinity, 3rd Antler, Hogfather and Retribution of Destiny. Fri, Oct 12, 6pm. $8. Nickel City, 1711 Branham Lane, San Jose.
Ashes.Ashes. With Undergone, the Holdup, Goodbye Elliott, Holden, Storybook of Stars and Breakpoint. Fri, Oct 12, 6pm. $10. Nova Hall, 37 N. 27th St, San Jose.
Getter! With Goodbye Elliott, Phathom, the Encore, Fallen Poet, the Riffs and the Darts. Sat, Oct 13, 6pm. $10 (includes skating). San Jose Skate, 397 Blossom Hill Road, San Jose.
Point of View. With the Benefits, Allys Anatomy, Jonny Manak and the Depressives, NVS and Cheers to Doerr. Sat, Oct 13, 6pm. $8. Nickel City, 1711 Branham Lane, San Jose.
Memphis May Fire. With Her Candane, Mikoto, the Hottness, Saryn, This Son of Yours, Sympathy Ends, Expose the Flaw, Contemptus and Runtrain. Sun, Oct 14, noon. $12 (includes skating). San Jose Skate, 397 Blossom Hill Road, San Jose.
www.myspace.com/pinupproductionssj
www.pinupproductions.net
Send a letter to the editor about this story.