10.10.07
home | metro silicon valley index | music & nightlife | band review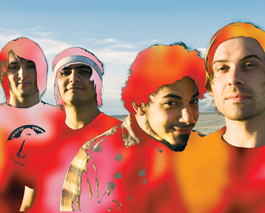 Photograph by Heather Ryan
'END' GAME: Strata are thinking about the end of the world but they're not going to get all screamo about it.
A New Level
'The End of the World' may be just the beginning for Strata
By Mike Connor
IN 2005, when Strata was getting ready to record its third album, Strata Presents The End of the World, the Campbell-based band had to make some time-sensitive decisions.
"We had to figure out, 'Who the fuck are we?," says Strata frontman Eric Victorino, speaking for his band mates Ryan Hernandez (guitar), Hrag Chanchanian (bass, piano) and Adrian Robison (drums) from the band's tour van in Salt Lake City. "In 2005, were you gonna be screamy like everyone else, or were you just gonna ignore it?"
The band decided not to go screamo—a wise decision that helped them hit their stride. Their new album is world-class and so is their management, which also has marquis acts like The Used, Glassjaw and Head Automatica as clients. But their decision not to go screamo is also fortunate for their fans who enjoy lyrics, because most screamo bands might as well not have any.
"I think some of those screamy bands may as well be instrumental," says Victorino, "Someone may as well be playing the scream, because there's no words."
But screamo bands aren't the only ones getting away with sloppy lyrics.
'Thanks for the memories, even though they weren't so great,' writes Fall Out Boy's Pete Wentz on their latest lyrically challenged hit song. In another one, he writes, "I'm a leading man /and the lies I weave are oh-so-intricate!" And oh-so-meaningless. Or, as Kanye puts it in his brilliant remix of that same song (which Fall Out Boy gamely posted on their MySpace page), "I don't know what the hell this song is talkin' 'bout ... do you?"
The truth is, pop-punk lyrics are often no more than rousing filler for explosive rock songs, which are conceived, recorded and performed with the latest technology to achieve maximum emotional effect.
In contrast, many of the lyrics on Strata Presents are compelling enough to stand on their own as stripped-down folk songs. Victorino tells complete stories about himself and the young people around him, some filled with tragic naivete and others with jaded acumen. On "The New National Anthem," from their newest album, Strata Presents The End of the World, Strata frontman Eric Victorino reclaims the country's theme song from the rednecks by reworking it to reflect his skepticism about the war in Iraq.
"O Say, can you see? By the dawn's early light / We get 'em young, give 'em guns and ship 'em off to fight" sings Victorino, with the band rumbling in after him. It's the only blatantly political song on the album, a fact that Victorino isn't proud of.
"I'm almost kind of embarrassed we only have one song that talks about that stuff," says Victorino. "You watch the news for a day or two and you can't help but feel we're grinding to a halt, or leading up to a crescendo, the grand finale. I watch Bush talking about 'The fight for human civilization' and all this crazy Lord of the Rings shit. It's hard to ignore that."
The state of the world has apparently inspired Victorino to up his songwriting game, which is clearly influenced by talented wordsmiths like Ben Gibbard and Conor Oberst. Victorino's writing talent is unsurprising, given that his book, Coma Therapy, is on its way into its second printing.
Strata's new album is almost embarrassingly good. According to Nirvana lore, that's how Kurt Cobain responded to Nevermind, which was way more polished than their prior album, Bleach. It sounded so good it was embarrassing. I asked Victorino if he felt similarly strange about Strata Presents.
"I love the White Stripes, bands that sound dirty and grungy and shitty," says Victorino. "but I think I'm the only one in the band that feels that way, and once it's done I end up liking it."
There's a lot to like in Strata's latest, starting with the music, a full-frontal assault of melody and angst. It is varied and ambitious, yet with a consistent feel of standing in the eye of a hurricane—despite the ever-shifting cacophony of drums and guitars, Victorino's narration is lucid and precise, cutting through the noise with a tinny, androgynous vocal register not unlike that of The Mars Volta's Cedric Bixler-Zavala.
The band is particularly excited about songs like "Hot/Cold (Darling Don't)," that incorporate more electronic elements. Already thinking about the next album, Victorino says "We're thinking about going heavy electronic on it."
They're also working on videos for the current album—one big budget shoot in Sweden and the other a no-budget shoot in Campbell. Just recently, Strata shot a video for "Love is Life" in a spot on Bascom with friends, fans and strangers they found on Craigslist and MySpace. They interviewed each person about what love was to them and got a diverse range of responses.
"We had a cast of 100 people all celebrating love on a couch," says Victorino. "It sounds like a porno but it's really not, it's kinda cute."
Send a letter to the editor about this story.