October 11-17, 2006
home | metro silicon valley index | silicon valley restaurants | review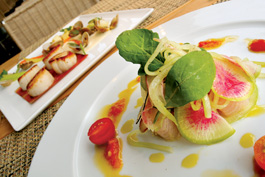 Photograph by Felipe Buitrago
Two to tangle: A postmodern scallop dish (right) and kampachi cocktail at Tanglewood.
Tanglewood's New Angle
Santana Row upstart finds niche with fresh and unique American cuisine
By Stett Holbrook
SAY WHAT you will about Santana Row's Las Vegas attitude, but it's got more good food per square inch than any place else in Silicon Valley. And even with nearly two dozen restaurants, new ones keep opening. The latest entry is Tanglewood, an American restaurant that plays up its seasonal and local ingredients.
The restaurant opened in August in what was once a men's store. It's owned by Roland Passot's Left Bank Restaurant Group, which operates a Left Bank restaurant just a few boutiques down from Tanglewood.
It's an impressive, masculine-looking place with big sliding doors that open onto the sidewalk and an outdoor patio. Inside, walnut paneling, dark, earthy colors and subtle lighting give the dining room a groovy yet elegant feeling. The most striking thing about the restaurant is the big, gleaming kitchen. It's not an open kitchen, but it's plainly visible behind the supermarketlike sliding glass doors that continually whisk open and shut as servers pass in and out of it.
I enjoyed the extensive wine list and the restaurant's decision to feature a seasonal grape varietal. Currently, it's riesling. The wine list also includes a list of produce that's either coming into season, at its peak or on the way out. It's a good way to prime diners for a seasonally driven menu, but wouldn't it be better placed in the menu rather than the wine list?
Highbrow to Down-home
Tanglewood's menu flits back and forth between highbrow and down-home, and dishes from both categories generally succeed. One of the restaurant's signature starters is the BLT salad ($8). Iceberg lettuce had largely been discarded by chefs as salad-bar filler but was rescued a few years ago by the popularity of American comfort food. At Tanglewood, a head of the crisp, refreshing greens is artfully arranged and drizzled with a dressing made with Point Reyes blue cheese and larded with slices of thick, smoky bacon and chunks of heirloom tomatoes. It's a delicious combination. Since tomatoes are on the way out, best order this dish soon. The farmer's market soup ($8) is another winner. The deep bowl of tender but still snappy baby squash, carrots and other vegetables is doused tableside with a rich tomato and basil broth. The one starter that missed the mark was the kampachi cocktail ($13). While the chunks of fish were impeccably fresh and the radish and cucumber slices crunchy and good, the salad needed a jolt of rice wine vinegar, or lemon juice or even a dash of salt to bring it to life. As it was, it was too bland.
The lunch menu has several gems. I loved the pulled pork sliders ($7 for one, $13 for two and $19 for three). Slow-roasted pork is steeped in a slightly sweet, moderately spicy barbecue sauce and stacked high between two tiny buns.
The right bread is often the key to a good sandwich and that's the case with the excellent lobster roll ($19). Tanglewood uses a squared-off- looking hot dog bun called a milk roll that toasts up just right for the lightly dressed lobster. The crispy and remarkably light corn fritters that come with it are great, too. Nineteen bucks is an expensive sandwich, but the kitchen piles on the lobster, so it's worth it.
Also try the roasted quail if it's available ($16). Quail is often more work than it's worth because it yields little meat, but here the birds are plump and wonderfully juicy. Paired with a molten pool of cheesy grits and micro greens salad capped with a little fried quail egg, it's a perfectly composed plate.
Fish Favorite
For me, the dinner entrees are where Tanglewood really shines. My hands-down favorite was pan-fried striped bass ($36). The fish was perfectly crisped on one side and snowy white and moist everywhere else and served in a bowl with woodsy wild mushrooms and a brothy lobster sauce poured on top. The generous slab of foie gras served on top pushed the dish over the top, but deliciously so.
Cedar-plank-roasted diver scallops with a "clam chowder" sauce was one of the most inventive dishes on the menu. Think of it as a postmodern version of clam chowder. The opaque, quarter-size scallops pick up a little piney smoke from the slab of cedar on which they're cooked. Elsewhere on the plate, the ingredients for clam chowder—whole clams, potatoes, salt pork, celery and baby carrots—are spread out like they were plucked from a bowl of soup and arranged for inspection. A stripe of creamy chowder sauce ties it all together. The only drawback is that it cools quickly.
Desserts are not Tanglewood's strength. While the sturdy apple tart with salty caramel ice cream is superb ($8), the other desserts I sampled felt like afterthoughts.
But a few less than satisfying desserts still make Tanglewood worth a visit. Or two.
---
Tanglewood
Address: 334 Santana Row, San Jose.
Phone: 408.244.0464.
Hours: 11:30am-2:30pm and 5:30-11pm daily.
Cuisine: American.
Price Range: $16-$37.
Send a letter to the editor about this story.