October 11-17, 2006
home | metro silicon valley index | music & nightlife | band review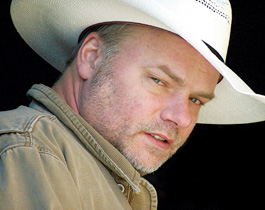 Fly Like an Eaglesmith: Fred doesn't want to be the left's honky-tonk savior.
Dining at 'Milly's Cafe'
Fred Eaglesmith invites you to leave the hummus at the door
By Paul Davis
Canadian folkie Fred Eaglesmith is one of those rare artists who bridge the worlds of hippie and redneck, a good ol' boy from Ontario who fondly remembers the good-humored liberalism of the late '60s and '70s. But though standards like "I Shot Your Dog" can bring a smile to the hidden redneck deep within every hippie, those who would like to claim him as the left's honky-tonk savior should take note: Eaglesmith's wit doesn't follow partisan lines.
"I was playing in Texas a couple of years ago, and it was pretty redneck—military fatigues everywhere and the hot dogs didn't even have buns," says Eaglesmith. "I had a guy in the band with dreadlocks, and they were giving him a look, and I told them, 'Well, I guess the gay pride parade don't do well here in Texas,' and they laughed, and then I started to give them a hard time.
"The right wing can take it a lot better than the left wing. I start on the liberals, and they can't take it—they're very serious about everything. Remember Spiro Agnew and Richard Nixon? Those weren't funny guys. But now, if I say how much I hate hummus, the left can't take it. When I was a kid hitchhiking on the road the left had a sense of humor and the right didn't, but now it's our guys who don't have a sense of humor, which is sad."
Gearing up for his show in leftie stronghold Santa Cruz, Eaglesmith doesn't worry that his idiosyncratic humor will offend the faithful. "[Santa Cruz) is a little different than everywhere else—it's a little bit wacked and the people are potheads who don't remember what I said anyway. I can play the same songs three times in one night!"
Make no mistake—as much as Eaglesmith gets a kick out of taking potshots from the sidelines, his personal principles are as unpretentious, direct and undiluted as the folk-rock for which he's made his name.
Although the inveterate road dog is touring behind another fine album, Milly's Cafe, it's his Reflections charity that he counts as his proudest achievement of the year. The charity equips bicycle-riding migrant laborers in Ontario, Canada, with reflective riding gear.
"Reflections is one of the best things I've ever done in my life," he says. "The migrant workers in Ontario are always on bicycles. Last year, three guys were killed in one accident. I was really disgusted with this, and I intended to raise money. Bike shops all over the nation started sending reflectors in boxes, so it's almost a no-money charity—all we need is a guy with a screwdriver. These guys are poor guys from Mexico and Jamaica trying to work for their families and it's tragic. Charity doesn't always have to be money, it can be a screwdriver in your back pocket and a box of reflectors."
Eaglesmith's songwriting is as inclusive and straightforward as his principles, trafficking in road-worn story-songs that find him embodying the characters of his tales. Alternately somber and humorous, he avoids pigeonholing himself at every turn.
"I don't want to be one-faceted," says Eaglesmith. "People say, 'When you're dark you're dark.' Well, some of my peers are so dark you only want to go see them once every five years. I'm a pretty fun guy, and I think it all can go together."
Eaglesmith's refusal to limit himself has earned him one of the most loyal audiences in contemporary folk music, all while keeping the 10-gallon-hat-wearing marketing gurus in Nashville at arm's length. Still, he's more than happy with this arrangement, having little interest in breaking through to a mainstream audience. "I have this really loyal fan base. It's unusual to have what I have. I feel really fortunate--I feel like I should stay at it since they stay at it," he says.
"There's always people on the periphery who don't understand, try and get you to find a younger audience. I look at all those stars and I don't think they're very happy. There's lots of time I can sit down by myself and nobody's thinking about me. I'm not interested in living like them. They're eventually going to die alone—we all die alone. What a weird feeling it must be to have to live your life feeling like there's always somebody there when there isn't."
Fred Eaglesmith plays Friday (Oct. 13) at 7 and 9pm at Kuumbwa Jazz Center, 320-2 Cedar St., Santa Cruz. Tickets are $21 advance/$24 door. (831.462.8282)
Send a letter to the editor about this story.